SKE Crystal Bar MESH 20mg Disposable Vape
The Crystal Bar Mesh Disposable Vape Kit is a convenient draw-activated vaping pod, available in several different flavours. Crystal Bars come with two levels of nicotine: 2ml of 20mg nicotine salt e-liquid, or 2ml of 0mg e-liquid (nicotine-free). They are filled, charged and ready to go straight away with a 500mAh battery.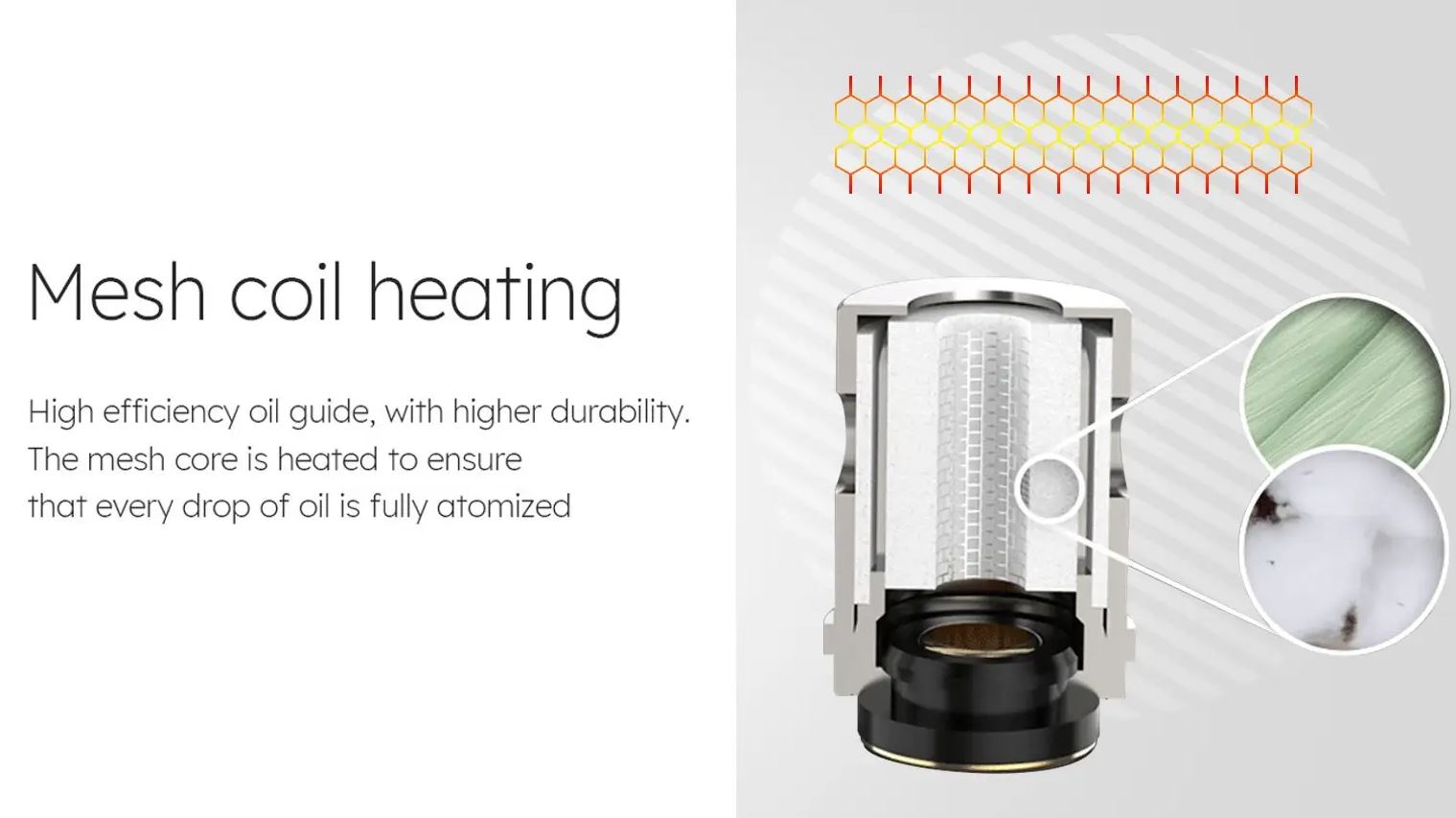 TIP: Also check out the GLOSS BAR Mesh 600 disposable.
Crystal Bar Features
Draw activated
Vape pod contains 2ml of vape juice
Available in both 0 mg (nicotine-free) e-liquid and 20 mg of nicotine salt e-juice
Up to 600 puffs
500mAh built-in battery
Mesh Coil
SKE Bar Specifications
Leading Disposable Vape Brand worldwide
TPD Compliant
Sleek attractive unique design & packaging
Good portability
Large Battery
Approx 600 puffs
Stylish Vape Pod Design
Mesh Coil Heating
The SKE Crystal Bar Disposable Vape Pods is a vape disposable brand that features a concentration ratio of 50% VG (Vegetable Glycerine) and 50% Mixed PG (Propylene Glycol) high-quality food flavourings and Salt nicotine. A perfect device for on-the-go MTL (Mouth To Lung ) vaping.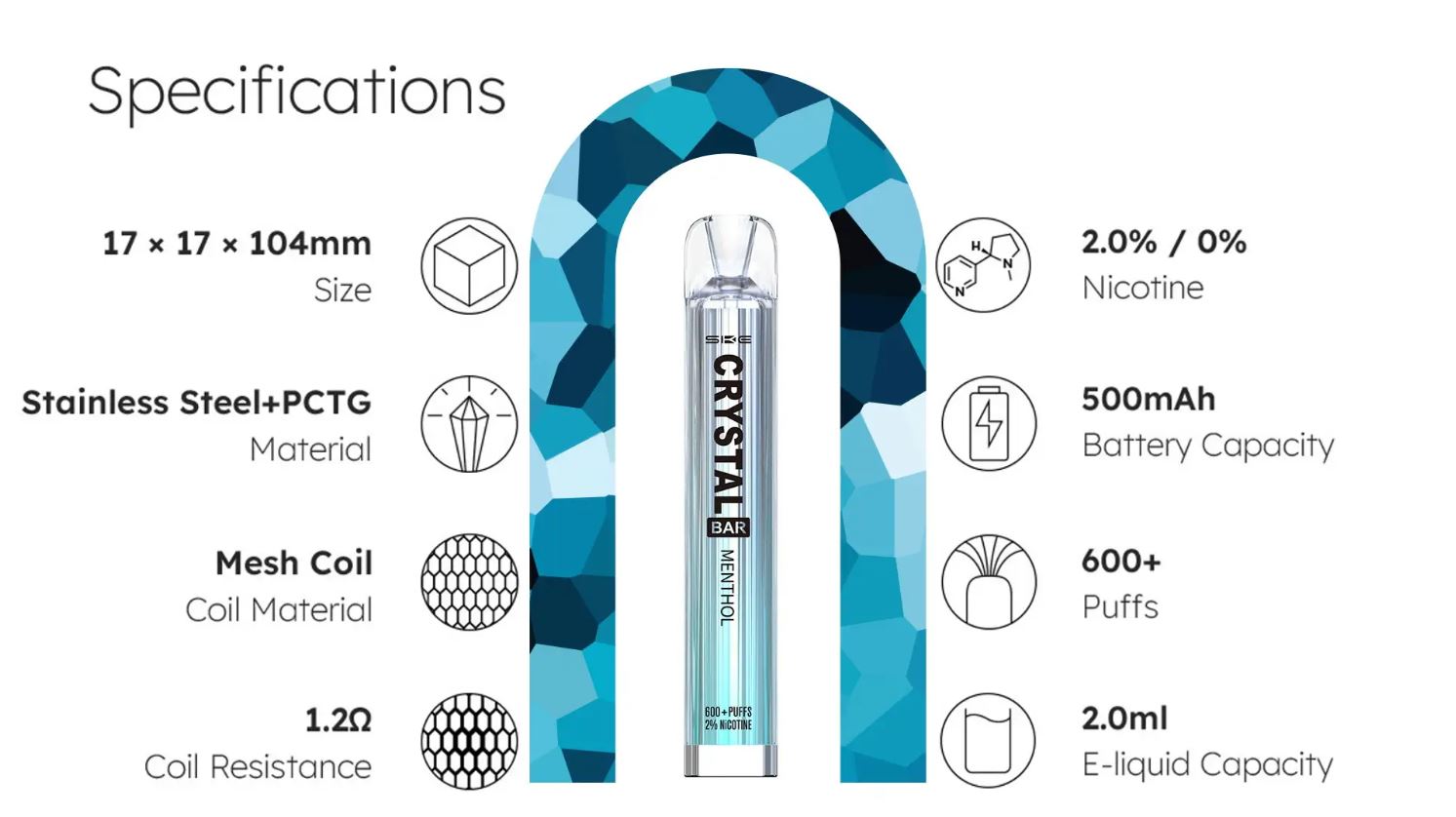 Crystal Bar Disposable FAQ
How long do Crystal Bar vapes last?
Every disposable Crystal Bar is equipped with a 500mAh built-in battery and 2ml of vape juice, giving you up to 600 puffs on each device – about 30 cigarettes worth. Once almost all of the juice is used up, the flavour and vapour production will start to decline, and eventually, the battery will be exhausted.
Disposable vape devices aren't made to be recharged, so if the battery runs flat then it's ready to be replaced. You also can't fill them with e liquid. If you're looking for a device you can reuse again and again, a refillable pod starter kit might be best for you.
How does the Crystal Bar vape kit work?
They're inhale activated, and as easy as it gets – draw in and the Crystal vape will heat the juice in the coil and produce a flavoursome vape hit. You don't need to worry about charging them either, they're pre charged
Is the Crystal Bar Disposable is right for me?
Disposable vape pens have their benefits, but they also have their drawbacks. In the interest of balance, we have outlined the pros and cons of disposables in this guide to help you make an informed decision.
Flavors SKE Crystalbar
SKE Crystal Blueberry Raspberries – Blueberry and Raspberry flavor and light ice.
SKE Crystal Banana Ice – Bananas and cooling.
SKE Crystal Menthol – Classic Menthol flavor.
SKE Crystal Mango Ice – Mangoes with cooling.
SKE Crystal Honey Melon – Honeydew melons with light cooling.
SKE Crystal Green Grape – Green grapes with light cooling.
SKE Crystal Strawberry Burst – Sweet strawberries with low cooling.
SKE Crystal Sour Apple – Sour apples with light cooling.
SKE Crystal Tiger Blood – Watermelon, Strawberries and coconuts with light ice.
SKE Crystal Watermelon – Watermelons with cooling.
SKE Crystal Tobacco – A classic tobacco flavor.
It comes with
1x SKE Crystal Bar Disposable Vape 20mg (600 Puff)
1x Swedish user manual