Lost Mary BM600 Disposable Vape
Introducing the Lost Mary Vape BM600 by ELF Bar, a game-changing disposable vape device that delivers a satisfying vaping experience without any hassle. Our bottle-shaped design makes it incredibly comfortable to hold and use, providing a more ergonomic experience than traditional pen-style devices.
Pre-filled with 2ml of 20mg premium nicotine salt e-liquid, the Lost Mary BM600 utilizes dual mesh technology to produce rich, flavorful vapor with a smooth throat hit that will leave you wanting more. And with its 550mAh non-rechargeable battery, this device delivers approximately 600 puffs.
Perfect for both beginner and experienced vapers, the Lost Mary BM600 is incredibly easy to use, requiring no coil changes or e-liquid refills. Simply use it right out of the box, then dispose of it properly and purchase a new one when it runs out.
Lost Mary BM600 is available in a wide range of 9 smooth brand new flavours. Our range has all the new Lost Mary flavours of the year and the best BM600 vape flavours for 2023:

Flavor Selection
LOST MARY Juicy Peach – A smooth and juicy peach flavor with light ice.
LOST MARY Mad Blue – Sweet blueberry and berry flavor with cooling.
LOST MARY Cherry Ice – A chilling cherry berry flavor with cooling.
LOST MARY Cherry Peach Lemonade – Cold icy lemonade drink with cherries and peach.
LOST MARY Pink Grapefruit – Grapefruit with pink berries and ice.
LOST MARY Pineapple Ice – Icy and sweet pineapples.
LOST MARY Watermelon Lemon – Fresh lemons with sweet watermelon.
LOST MARY Red Apple Ice – Ice cold red apples.
LOST MARY Menthol – A ice cold menthol flavor.
Featuring inhale-activated technology, the Lost Mary BM600 produces a discreet amount of MTL (Mouth To Lung) vapor that replicates the feel of cigarettes. And with several refreshing flavors to choose from, all of which are new and unique, you're sure to find one that you love. Inspired by the people behind Elf Bar, the Lost Mary BM600 is a high-quality disposable vape that you can enjoy with every puff.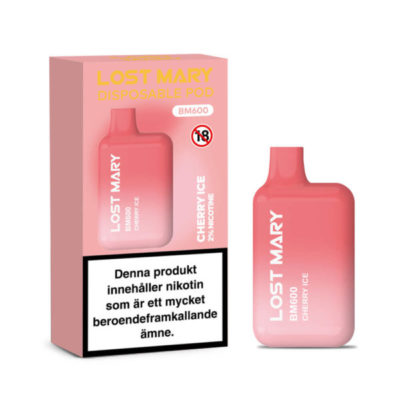 Parameters Lost Mary
Size: 66 x 35 x 16 mm
E-liquid Capacity: 2 ml
Nicotine Strength: 20 mg/ml
Puffs: Up to 600
It comes with
1 x Lost Mary Disposable Vape 20mg
Swedish user manual