Salt Switch 600 Disposable Vape Pod
New to vaping? The SALT Switch Disposable Pod Device could be the one for any brand new vaper. This disposable device is capable of 600 puffs with 2ml of 20mg nic-salt E-liquid. Compact and portable, this kit also comes in 24 diverse, flavours/colours. In addition, this device has inhale activation allowing for an easy transition. It also does not require charging or filling. So, if you're considering switching from smoking to vaping this convenient, easy-to-use device is a way to go!
The all new 600 puff SALT Switch Disposable Pod Device contains 2ml of 20mg e-juice for great flavour and big clouds.
A perfect pocket-sized disposable vaping device that can be enjoyed anywhere.
Salt Switch Disposable Bar Flavors
Choose your favourite flavour out of 24 amazing options, or try them all.
• Watermelon Lush Ice – Taste of watermelon and cooling.
• Apple Ice – Disposable e-cig with a classic taste of apple and cooling.
• Strawberry Lychee – Has a taste of tropical lychee fruit along with strawberry.
• Blueberry Raspberry – Is a berry mix with blueberries together with raspberries.
• Ice Mango – Exotic taste of mango together with cool menthol as an aftertaste.
• Energy Juice – Has a red bull style energy drink taste.
• Cool Mint – Cooling and fresh mint vape with a classic taste.
• Ice Cola – Refreshing taste of cola drink with cooling.
• Lemon Soda – Fresh and sour taste of lemon soda.
• Strawberry Apple – Gives you a mix of fresh apples and strawberries.
• Banana Ice – Taste of fresh bananas with cooling.
• Guava Ice – Tropical fruit flavor in the form of Guava with cooling.
• Coffee Tobacco – Gives you a mix of coffee and tobacco flavor.
• Blood Orange – Fruity flavor in the form of fresh blood orange.
• Grape Paradise – Has a taste of fresh grapes.
• Nuts Tobacco – Gives you a blend of nuts and tobacco flavor.
• Pure Tobacco – Authentic taste of tobacco.
• Soft Mint – Taste of mint and bubblegum
• Coconut  –
• Cocktail –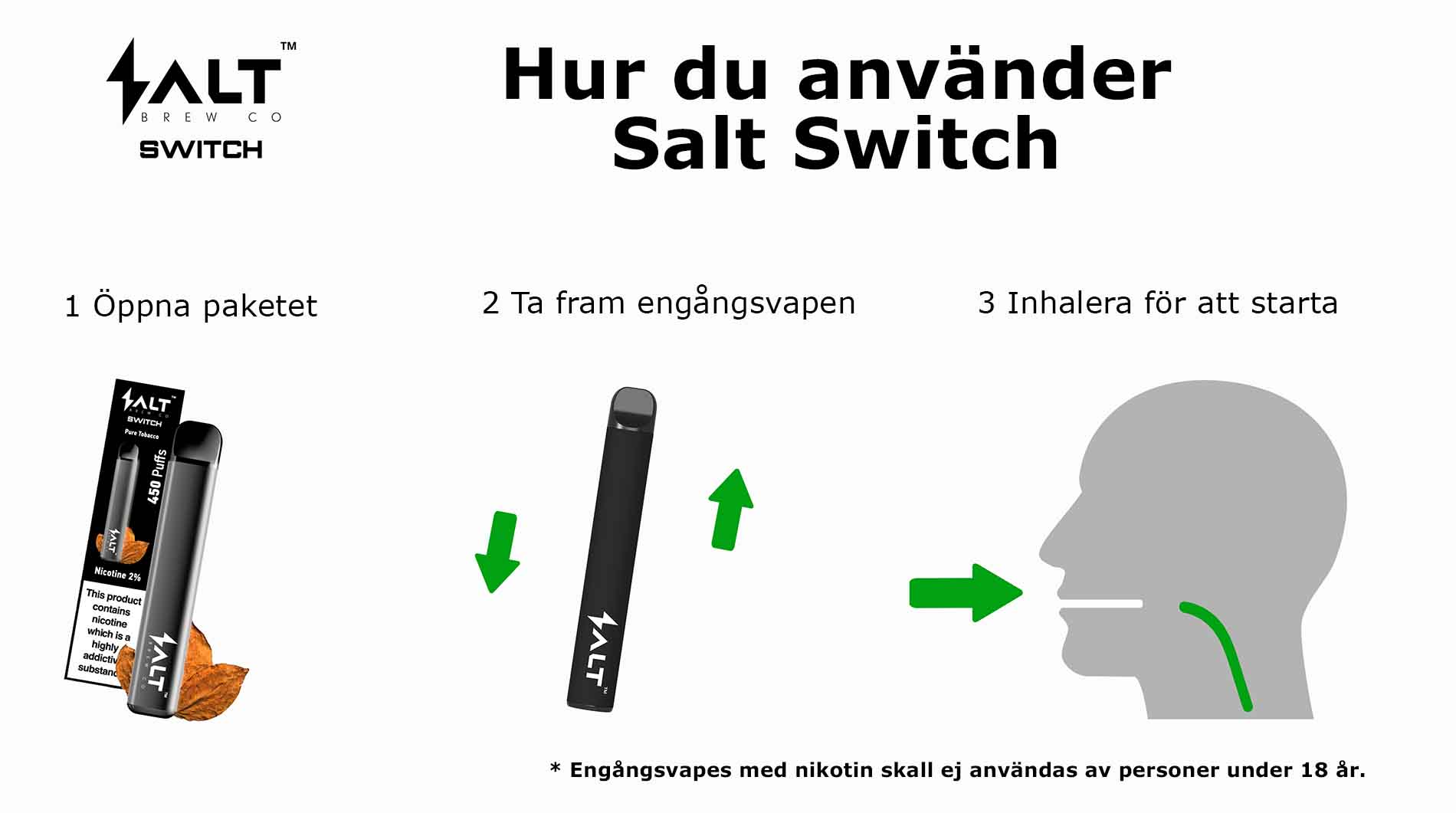 Salt Switch Disposable Vape Specifications
Nicotine: 20mg salt
Size(mm): 10.3 x 18 x 106
Battery capacity: 400mAh
E-juice capacity: 2ml
Resistance: 1.8ohm
Voltage: 3.7V
Weight: 20g
E-juice mix: 50/50 PG/VG
Puffs: Aprox 600
Ingredients
Vegetable glycerin, propylene glycol, nicotine, benzoic acid, flavourings
It comes with
1x Salt Switch Disposable Vape Pod (600 Puffs)