IVG Bar Plus Disposable Vape Pod
IVG are known for their popular flavours, and continue to incorporate those well loved products and new flavours into the latest vaping trends and devices. The IVG disposable bars are the easiest to use yet, no charging, no refilling, it simply is just a grab and go, one stop vaping solution.
The vape pod is available in a variety of uniqe flavours like Aloe Grape Ice, Classic Menthol, Polar Mint and much more.
IVG Bar Plus 600 Disposable Vape Pods are a brand that features a concentration ratio of 50% VG (Vegetable Glycerine) and 50% Mixed PG (Propylene Glycol) high-quality food flavourings and Salt nicotine. A perfect device for on-the-go MTL (Mouth To Lung) vaping!
Disposable vape bars have quickly become one of the fastest selling vaping products around the world. With many governments legislating restrictions on volumes, refillable containers and the like, these small and discrete devices tick all the boxes that both governements and vapers can agree with.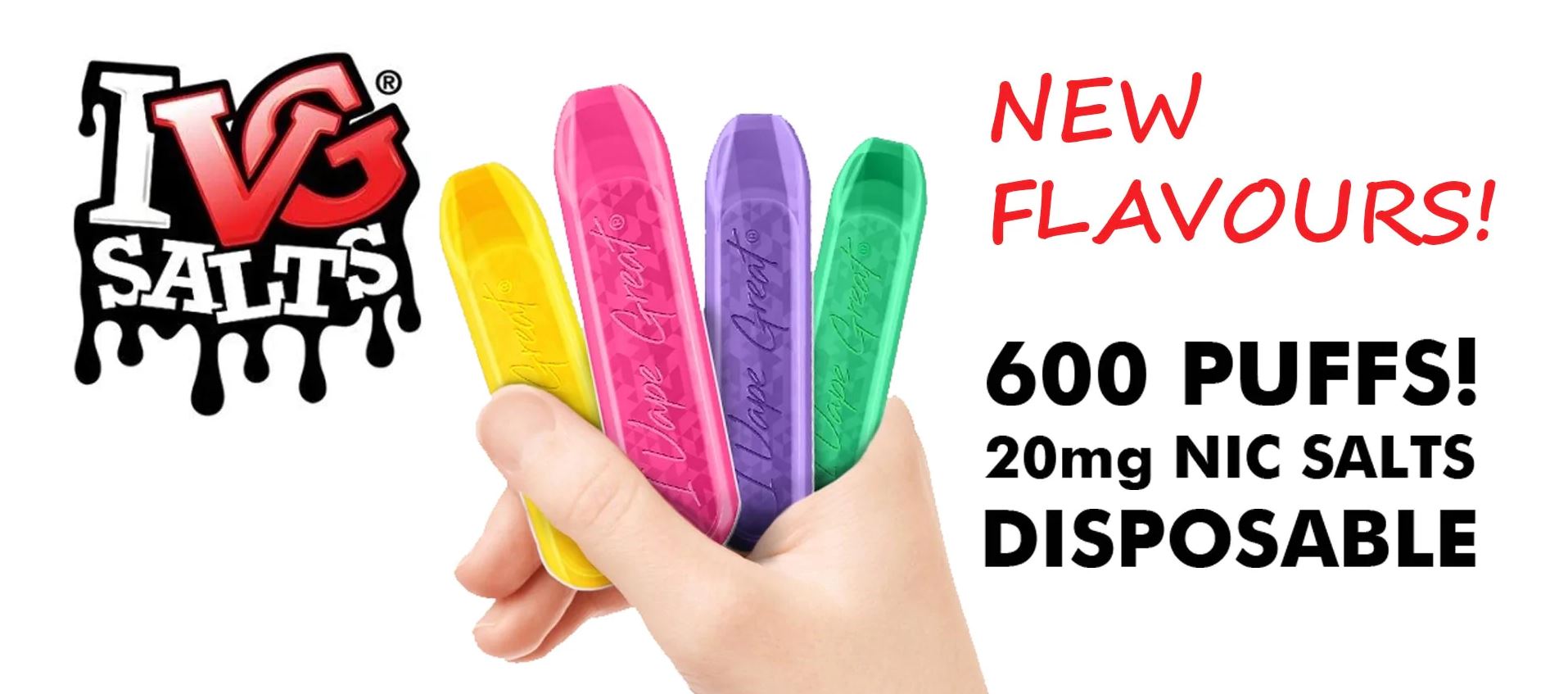 The conveneience that they offer can suit vapers of all types, whether you are looking for an everyday product that is easily concealed or carried, or just something for those nights out when you prefer to leave your larger device at home. For many they have become there go to device, for some, it's a back up. The IVG Disposable vape bars are here to stay.
IVG Bar Plus Specifications
500mAh High voltage battery
2ml 2% Salt Nicotine
Up to 600 Puffs
Stylish compact design
High-Quality Organic Cotton
Available in many Flavours, each with their own coloured bar, we are sure they have a product for you. Each disposable bar contains 2ml of E-Liquid of 20mg Nicotine Salt and can last for upto 600 puffs, that is an incredible feat for such a small device.
IVG Bar 600 Flavor Selection
IVG Bar Peach Rings – A classic peach flavor with that little something extra.
IVG Bar Blue Raspberry Ice – Blue raspberries with cooling. Popular flavor profile.
IVG Bar Raspberry Lemonade – Fresh raspberries.
IVG Bar Rainbow – A mix of fruits and berries.
IVG Bar Mango Lychee Ice – Litchi fruit and Mango in combination. Cooling/ice in the background.
IVG Bar Ruby Guava Ice – Guava with notes of mint & ice.
IVG Bar Pink Apple – Strawberry, raspberry & apple.
IVG Bar Aloe Grape Ice – Aloe vera flavor together with grape. Cooling in exhalation.
IVG Bar Strawberry Watermelon – The classic combination of strawberry and watermelon.
IVG Bar Pink Lemonade – Grapefruit and pink fruits with cooling
IVG Bar Vanilla Custard Tobacco – Tobacco flavor with vanilla custard.
IVG Bar Polar Mint – Ice cold mint from the polar ice.
IVG Bar Passion Fruit – Exotic passion fruit with a little cooling.
IVG Bar Fuji Apple Melon – Healthy fuji apples with light ice.
IVG Bar Energy Ice (Blue Rush Ice) – Blue energy drink with cooling.
IVG Bar Cola Ice – Bubbly cola drink with cooling.
IVG Bar Berry Lemonade Ice – Lemonade drink with flavor of different berries and ice.
IVG Bar Classic Menthol – A classic taste of cold menthol.
What makes the IVG Bar Plus 600 Disposable Vape so special?
The i vape great disposable features a smooth, ergonomic rubber design. It is perfect for absorbing the sensations of a vaporizer, allowing the user to experience an incredible amount of vapor and flavor. The high-quality heating cartridge provides reliable results that are consistent with other top quality vape pens. The heating process creates an ultra-clean vapor that will leave the user feeling satisfied and refreshed.
Backed by an unrivaled warranty
Many Disposable vape units are made to break as early as possible, but this one is a company favorite. As always with IVG, they offer an extensive warranty and free service for life if you run into any problems with your vaping experience.
Buy with confidence from an online retailer
The IVG Bar Plus 600 disposable vape is available from a reliable online retailer that has a track record of delivering premium products. With our incredible customer service and on-time delivery, you will have the peace of mind that comes with purchasing from a company that is dedicated to providing its customers with quality products.
Reason for the long lasting of IVG Bar Plus 600 Puffs Disposable Vape Device:
Here are the reasons for how long should a 600 Puff vape should last.The rubber ergonomic design of the IVG Bar Plus 600 disposable vape unit provides a unique and stylish look. It is made in a one step process that includes an IVG, a heater cartridge, and all of the necessary components. This process ensures reliable use of this vape pen alone or with the assistance of a power source, like a battery or external charger. The battery life is dependent on how often the user vapes, but a single charge can provide up to 900 puff plus vape.
It comes with
1x IVG Bars Disposable Vape 600 puffs
1x User manual