Aquios Bar Mesh Recyclable Disposable Vape
Aquios Bar is a recyclable disposable vape with mesh coil. It is made of paper and rubber and it contains only 5% plasic material, which is a plus for the environment. With its smart and simple design, the battery can be easily detached from the device so that you can dispose of the battery in the right place and the rest in the trash. It also contains 30% water, which makes Aquios Bar very smooth.
The Aquios Bar comes with a 1.1 ohm mesh coil that highlights the flavor more. The vape does not require charging or refilling and can handle up to about 600 puffs, it has no button and is started by inhaling. Aquios Bar is available in 10 flavors and comes in 0mg and 14.9mg/ml nicotine salt which is gentler on the throat and which allows the nicotine to be absorbed faster by the body. It is a vape MTL kit for those who want to quit smoking or for those who strive for something simple for the sake of taste.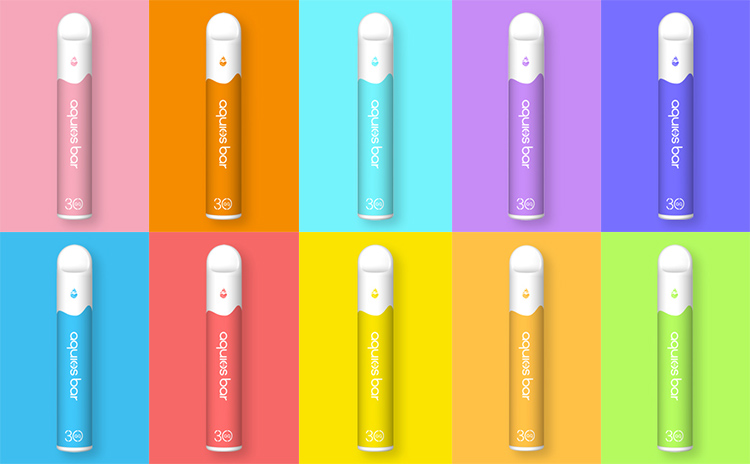 Aquios Bar flavors:
Grape Ice – Chillied grape with cooling.
Mango Passion Ice – Passion fruit and mango with cooling.
Cosmic Ice (AQ Bull Ice) – A mix of sweet and sour fruits with ice.
Sunrise Ice – Bananas with Mango and cooling.
Watermelon Ice – Watermelons with cooling.
Peach Ice – Sweet peaches with ice.
Tropical Fruits – Tropical fruits with cooling.
Blueberry Ice – Blueberries with cooling.
Sour Apple – Sour crisp apples with ice.
Blueberry Bubblegum – A sweet blueberry bubbelgum flavor with ice.

Specifications Aquios Disposable
E-Liquid: 2 ml.
Battery: 450mAh
Puffs: 600 puffs
Mix: 50pg/50vg
Nicotine: 14.9 mg/ml
Nicotine type: Nicotine salt.
Material: Paper.
Dimensions: 97x17mm.
Coil: 1.1 ohm mesh coil.
Mady by: Innokin
30% water.
It comes with
1 x Aquios Bar disposable vape.
1 x Swedish Manual.