VapeM8 VM800 Disposable Vape – 800 Puffs
We can now prodly introduce our very own disposable mesh vape with incredible 800 puffs, designed in Sweden!
The VM800 Vape bar from VapeM8 has a lagre built in 550mAh battery and comes prefilled with 2ml premium juice. You can choose if you want 2% (20mg) Nicotine strength or completly wihtout nicotine (nicotine free). The VapeM8 disposable pod kit can deliver up to 800 puffs, or the equivalent of about 60 regular cigarettes, depending on your vaping style.
VapeMate Disposable Kit comes in a surprisingly slim package considering the lagre battery and many puffs, this is the true embodiment of a solid and effective disposable vape.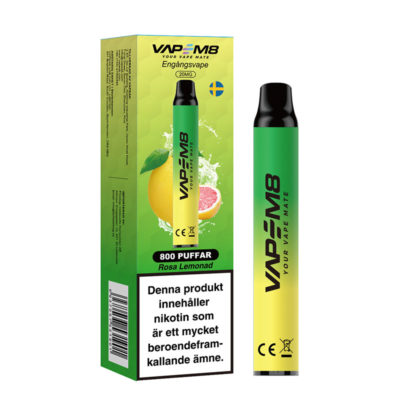 VapeM8 Disposable specifications
E-liquid Capacity: 2ml
Nicotine Strength: 20mg (2%) / 14.9mg (1.49%) Nicotine Salt
Battery Capacity: 550mAh
Wattage: 13W
Puff Amount: Up to 800 puffs
Coil: 1.1 Ohm Mesh
Designed in Sweden
VapeM8 disposable e-cigarett has the classic cylindrical shape and feel of a modern disposable, it enlists a trio of intense flavour, long battery life and discreet vapour production.
Boasting a highly impressive MTL inhale and a small mouthpiece, the hit you get with these disposables replicates the same inhale experienced when smoking a cigarette – minus many of the harmful chemicals and unpleasant smell.
You have a wide selection of 16 differant flavors which we have carefullt selected and most of thye vape flavors have a toned down amount of cooling agent in order to focus more on the more buoyant flavours.
Flavors VapeMate VM800 Mesh
Ananas Persika Mango – Pineapple, Peach and mangoes with slight cooling.
Blå Hallon Lemonad – Blueberry and raspberry lemonade with low ice.
Cool Druva – Ice cold grapes with alot of chilling ice.
Cool Mango – A flavor with fresh mangoes and lots of cooling.
Cool Vattenmelon – Loads of sweet watermelons with cooling.
Jordgubbsglass – An ice cold vanilla ice cream topped with fresh strawberries.
Jordgubb Kiwi – Sweet kiwi fruits with strawberries and low cooling.
Mixade Bär – Mixed forest berries with a litte cooling.
Rosa Lemonad – Here is our take on hte classic Pink Lemonade flavor.
Sura Blåbär & Hallon – Sour blueberries and raspberries with a little ice.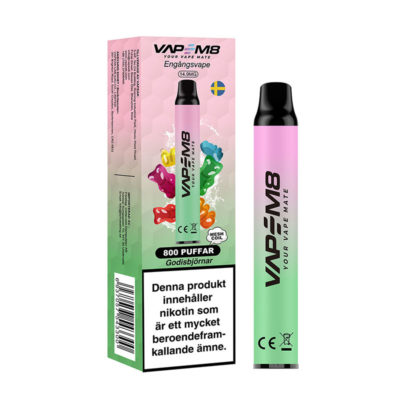 Flavors VapeM8 VM800 14.9mg Mesh
Blueberry Bubblegum – Sweet chewing gum with blueberry and ice flavor.
Cola Ice Cream – Ice cold cola icicle with cooling.
Candy Bears – Sweet candy bears in different colors with cooling.
Caramel Tobacco – Sweet RY4 Tobacco with caramel.
Mint Chewing Gum – A sweet flavor of spearmint bubble gum.
Tropical Fruits – Mix of juicy tropical fruits with lots of mango and light cooling.
Do you want to sell VampeM8 in your shop? – Contact us for questions about wholesale.
It comes with
1x VapeM8 VM800 Disposable Vape Pod (800 Puffs)
1x Swedish user manual