KILLA Switch Mesh Disposable Vape
Now you can experience a completely new and long-lasting taste with the KILLA Switch disposable vape with mesh coil. It has an impressive capacity of up to 800 puffs and uses the cutting-edge Mesh Coil technology to deliver more, fuller and thicker vapor clouds. The child lock on the KILLA Switch Vape is activated or locked quickly and smoothly by taking three quick puffs from the mouthpiece.
Specifications
Special function: Child lock
Tank: 2 ml
Battery: 500 mAh
Nicotine: 20 mg/ml (2%)
Resistance: 1.4 Ω
Manufacturer: N.G.P EUROPE
Brand: KILLA SWITCH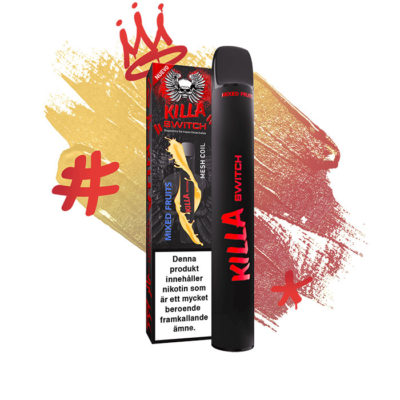 Mesh Coil technology
With the Mesh Coil technology within disposable vapes, the heating of the e-juice  in the product is more even and faster, resulting in a more direct and intense flavor profile. Performance also becomes more reliable compared to traditional disposable vapes that use older technology.
The Killa Switch is a disposable vape, also called a disposable E-cig, which is an electronic cigarette that is intended to be used once and then discarded. The product consists of a battery, a tank and flavored e-liquid.
Flavors
Strawberry Watermelon – Sweet strawberries together with watermelon and ice.
Mixed Fruits – Mixed fruits with lighter cooling.
Mint Ice – Icy and sweet mint flavor.
Lychee Ice – Fresh lychee fruit with cooling.
Lush Ice – A mix of watermelon and cold menthol.
Energy Drink – A bubbly energy drink with ice.
Pineapple – A sweet taste of pineapple.
Peach Ice – Fresh peaches with lots of cooling.
Tangerine – Sour and sweet taste of tangerine with a little ice.
Cool Melon – Ice cold melons.
About KILLA Switch Vape
KILLA Switch is manufactured by the nicotine company N.G.P, which is best known for its products KILLA and PABLO. KILLA Switch Vape is available in 10 different flavors to suit different preferences.
It comes with
1 x KILLA Switch Disposable Vape 20mg nicotine
Swedish manual