Guide to vape coil wires
RBA vape coils are designed for use with your vape tank or rebuildable atomiser. Most coils consists of a wrapped metal wire fitted into a cotton wick. The wick will then soak up e-juice and then the coil will heat up until the liquid evaporates. There are many different types of RBA coil wire types so it's important to know what's compatible with your prefered vaping style. Different metals have various properties, therefore only certain coil types can work with a certain output mode. Here we will list the most common types and make it easy for you to make your choice!
Kanthal wire
Kanthal coil wire is the most common coil wire material used for vaping. That is because it is cheap, easy to use, gives good flavour and vapeor production. You will find kanthal wire in both tank coils and prebuilt coils for rebuildable atomisers.
It comes in a great range of different resistances and provides versatility, working well for both sub ohm vaping and mouth to lung vaping. Kanthal coils can only be used in Variable Wattage mode, so it is compatible with most vape devices tanks.
Features:
Most Common
Good price
Used for Variable Wattage Mode
Gives Balance Between Flavour and Cloud Production
Stainless Steel wire
Stainless Steel coil wire, or for short 'SS wire', is a versatile material for vape coils. It is best attribute is that ic can be used for both Variable Wattage (VW) Mode and Temperature Control Mode (TC), making it a very popular choice, particularly for advanced vapers. SS wire will heat up faster than standard Kanthal wire and interupts less with the flavour.
Features:
Compatible with Temperature Control Mode (TC) and Variable Wattage (VW)
Heats up faster than Kanthal
Gives Clean flavour
Nickel wire
Nickel vape coil wire (NI200), is a big favourite amongst some experienced vapers and is used primarily in advanced vape devices and RBA. It is important to know that nickel coils can only be used in Temperature Control mode! It is a reliable vape wire and performs very well at high temperatures. Because of it's high Temperature Coefficient of Resistance, NI200 is a good choice for cloud chasing and gives intense flavour when vaped. Due to its malleability and general softness as a metal, it can be hard to build with for RDA use, therefore it's only recommended for advanced vapers.
Features:
Common
Temperature Control Mode Only
Performs Well At High Temperatures
Produces Large Clouds and Intense Flavour
Can Be Difficult To Build With
Nichrome wire
NiChrome wire (Ni80) is pretty similar to Kanthal in the way that it's very available and can also only be used in Variable Wattage Mode. It makes Ni80 coil wire ideal for alot of vape kits and devices and can be used in tank coils and prebuilt coils for rebuildable atomisers (RBA). Ni80 wire heats up quicker than Kanthal, gives a faster ramp up time and huge clouds.
Features:
Variable Wattage Mode Only
Faster Ramp Up Time Than Kanthal
Good For Big Clouds
Compatible With Most Vape Kits
Titanium wire
Titanium coil wire or Ti wire can only be used in Temperature Control Mode (TC), which is used in most common sub ohm vape kits. Ti coils works well at high temperatures since it doesn't lose its Ohm resistance and is easy to build with, making it nice for cloud chasers.
Features:
Temperature Control Mode Only
Easy To Build With
Holds Shape
Performs Well At High Temperature
Mesh wire
Mesh coils have revolutionised the vaping world and is now one of the most popular choice for beginners and also experienced users. Mesh coils are usually made from either Stainless Steel or Kanthal wires and can be used for most devices and RDAs nowadays. It gives a very good flavor because of it's large heated surface, mesh coils replace the regular coil wires used in standard coils with metallic mesh instead. It gives a much quicker firing,  a longer wick lifespan and is more power efficient compared to regular rounded coils.
Features:
Popular and Widely Available
Great Flavour
Faster Firing
Longer Lifespan
Power Efficient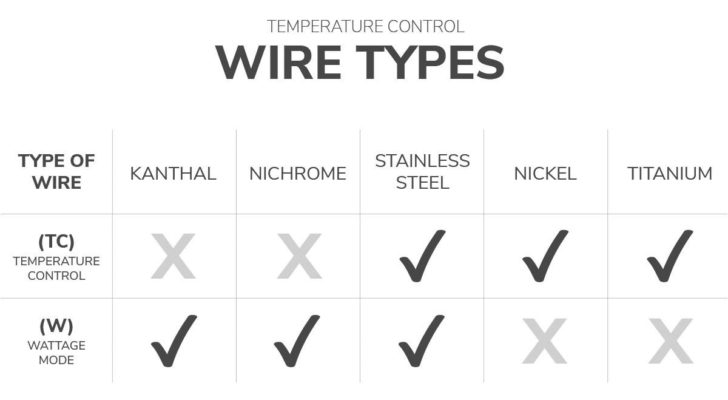 Final wire thoughts
How to pick and to use the right coil can really make a huge difference for your  vaping experience so it's important to know the benefits and properties of each vape coil wire type. You can use this guide as a starting point and try for yourself until you find what is best suited for your preferance. Just remember to always check compatibility with your vape device before use a certain wire.
For use with rebuildable atomisers (RBA), you need to understand some basic technicalities of vaping and Ohm's Law. You can read more about Ohmäs Law and how to build RDA's here. It will teach you all that you need to know before you start building coils and use RDAs.
We hope this guide has been helpful! If you have any questions, don't hesitate to Contact us.