Aroma King GEM MESH Disposable Vape
Aroma King Gem Disposable vape is a brand new disposable vape. We have now brought in several new flavors of disposable pod systems from Aroma King with 10/18/20 mg/ml nicotine salt. These provide up to 700 puffs in each pod, when used up they are discarded.
Click here to buy AromaKing GEM without nicotine.
The Aroma King Gem disposable vape comes with mesh coil that highlights the flavor more. The pod does not require charging or refilling and can handle up to approx. 700 puffs, it has no button and is activated by inhaling. Aroma King Gem is available in many flavors and comes with nicotine salt which is gentler on the throat which allows the nicotine to be absorbed by the body faster. It is a perfect MTL kit for those who want to quit smoking or for those who strive for something simple for the sake of taste.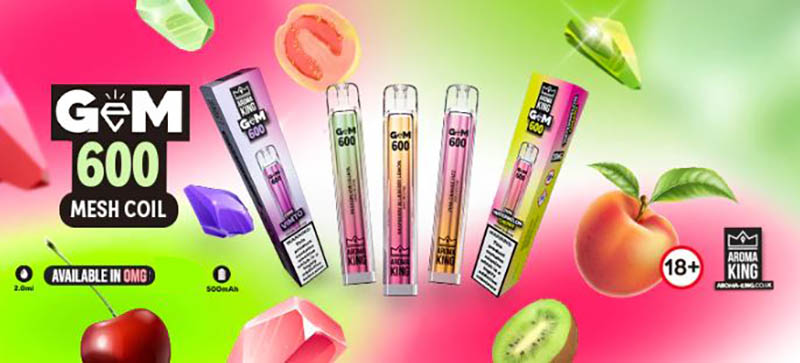 Aroma King Gem Flavors 20mg:
Berry Peach – Berry with combined with sweet peach and a little ice.
Blue Razz – Blue icy raspberry like only Aroma King Gem can.
Cola Ice – The classic soda cola together with ice.
Grape Ice – Grapes combined with a lot of cooling.
Hawaii Pog – Hawaii drink together with crushed ice.
Mixed Berry – Mixed berries in AromaKing's way, together with ice.
Peach Ice – Sweet peaches together with cooling.
Sour Apple – Sour apples combined with some ice.
Tiger Blood – An energy drink together with some ice.
Watermelon Ice – Ice cold and sweet watermelons with ice.
Banana ICE – Icy bananas that only Aroma King Gem can.
Blue Sour Raspberry – Sour blue raspberry with a little ice.
Blueberry ICE – Fresh blueberries along with cooling.
Blue Razz Cherry – Sweet blue raspberry combined with cherry and ice.
Blueberry Cherry Craneberry – Cherries and cranberries combined with blueberries.
Blueberry Pommegranate – Sweet pomegranate together with blueberries and some ice.
Bubblegum – A classic sweet bubblegum with blueberries and light cooling.
Cantalupe –  Honeydew melon along with some cooling.
Cherry ICE – Sweet dark cherries combined with cooling.
Cool Mango – Ice cold mango fruits.
Green Apple – Healthy green apple along with ice.
Lemon Lime – A fresh lemon and lime flavor combined with cooling.
Mango Apple Pear – Mango and apples combined with pears.
Menthol – An icy menthol flavor in the Aroma King's own way.
Passionfruit – Sour and fresh passionfruit together with ice.
Pineapple – Exotic pineapple fruit with cooling.
Pink Lemonade – A pink lemonade drink with hints of citrus.
Strawberry Banana – Ripe bananas along with strawberries.
Strawberry Guava – Guava fruits combined with strawberries and some ice.
Strawberry ICE – Strawberries with a lot of cooling.
Strawberry Kiwi – Kiwi fruits along with strawberries.
Pineapple Lemon – Sour lemons with sweet pineapple.
Raspberry Blueberry Lemon – Berries with sour lemon and ice.
Passion Kiwi Guava – Kiwi and passionfruit together with guava melons.
Mr. Blue – Berry flavor with blue berries and low ice.
Lush Ice – Sweet melon flavors with alot of cooling.
Gummy Bear – Sweet gummy bear candy flavor.
Blackcurrant Ice – Blackcurrants combined with cooling.
Raspberry Ice – Raspberries together with cooling in Aroma King's own way.
AromaKing Gem Flavors 10mg:
Berry Peach – Sweet berries with peach and light ice.
Blueberry Bubblegum – Blueberry combined with sweet chewing gum.
Cotton Candy – Sweet cotton candy with lots of sugar.
Kiwi Strawberry – Sweet kiwi fruits with strawberries and low ice.
Blueberry Pomegrenade – Pomegranate together with blueberries and light cooling.
Passion Fruit – Passion fruits with low cooling.
Pineapple – Pineapple fruit with a little cooling.
Cherry Ice – Sweet cherries with cooling.
Lychee Ice – Fresh lychee fruit with lots of cooling.
Mango Apple Pear – Mango combined with apple and pear and a little ice.
Strawberry Ice – Sweet strawberries with lots of cooling. –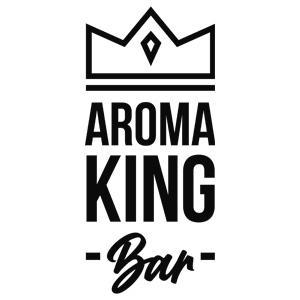 AromaKing Mesh Specifications
Pod size: 2 ml.
Battery: 500mAh.
Nicotine: 10/18/20 mg/ml.
Mix Ratio: 50PG/50VG
Type: Nicotine salt.
Puffs: 700 puffs.
Wholesale Aroma King Sweden
Do you want to sell Aroma King iGEM n your store? Contact us for more information regarding wholesale of disposable vapes. Or register an account at Engångsvape24 directly.
It comes with
1 x Aroma King Gem disposable vape.
1 x Swedish Manual.