SKE Crystal Bar Disposable Vape ZERO Nicotine
Here is the award winning Crystal Original Disposable Vape in zero nicotine. Crystal Bar Disposables are available in a range of different flavours. Each device features 2ml of nic salt at a nicotine strength of 0mg and is powered by an integrated 500mAh battery. Click here if you want the Crystal Bar with 20mg nicotine salt.
Capable of delivering up to 600 puffs. and usable out of the box, each device is draw activated, meaning users simply inhale on the device to activate it. Once the device has used all the e-liquid it can be disposed of.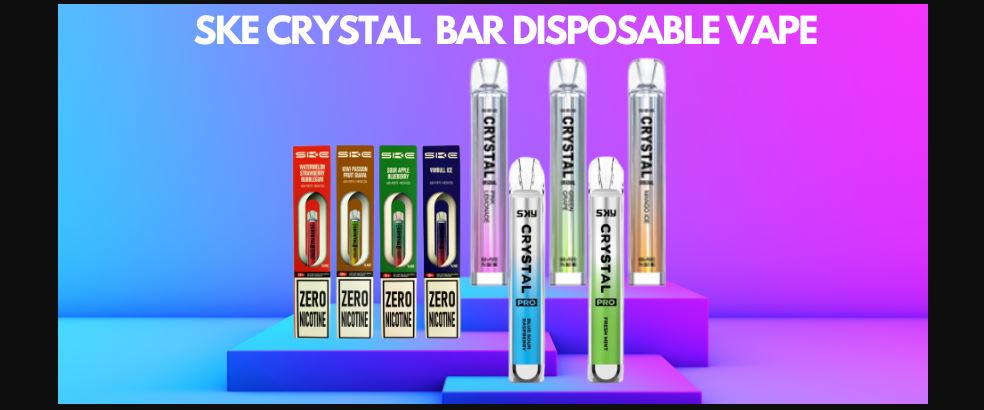 Crystal Bar Specifications
Up to 600 puffs
500mAh Battery
MTL vaping
Nicotine Strength 0mg
Draw Activated
Mesh Coil
Vape Flavors Crystal Bar
Blue Razz Lemonade – Sweet Blueberry lemonade.
Blueberry Raspberries – Blueberries and raspberry.
Bull Ice – Energy drink.
Cherry Ice – Cherries with cooling.
Green Apple – Freshly picked green apples.
Kiwi Passionfruit Guava – Kiwi with passion fruits and guava melon.
Lemon and Lime – Sour lemons with sweet lime.
Mango Ice – Mango with cooling.
Peach Ice – Sweet peaches with cooling.
Sour Apple – Sour apples.
Sour Apple Blueberry – Sour apples with blueberries.
Sour Blueberries – Sour blueberry.
Strawberry Burst – Sweet strawberries.
Strawberry Ice Cream – Ice cold strawberry ice cream.
Tobacco – Classic Tobacco flavor.
Vimbull Ice – Blackcurrant, Energy Drink and Ice & Cooling.
Watermelon Ice – Watermelons with cooling.
It comes with
1 x Crystal Bar Disposable Vape Device