Aroma King GEM Nicotine Free Disposable Vape
Aroma King Gem zero nicotine disposable vape pod is a single piece unit. It comes fully charged straight out of the box and providing up to 600-700 Puffs. There is no button, simply attach the filter, inhale and enjoy rich full flavoured vape. Designed for ease of both use and comfort, the Aroma King GEM Disposable Vape with mesh coil will make vaping experiences immersive and extremely convenient to use. You can choose from 20 flavours all with from this range of 0mg Nicotine disposables to pick your flavour of choice.
Click here to buy AromaKing GEM with nicotine.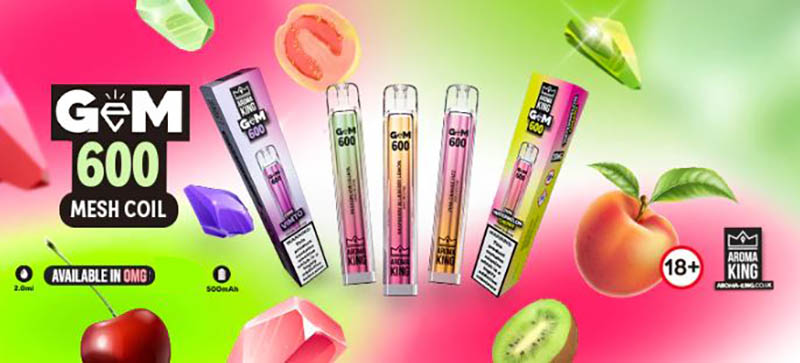 With a built-in 500mAh battery and 2ml of pre-filled nicotine salt e-liquid inside each flavour, the Aroma King GEM 600 Disposable Vape pod will last up to approximately 600-700 puffs. When it is depleted, you just dispose of the Aroma King GEM disposable device after you've used it.
AromaKing GEM Nicotine Free Specifications
Puffs: Up To 600-700 puffs
Battery: 500mAh (Built-In)
Nicotine: Nicotine Free 0mg
E-juice Capacity: 2ml pre-Filled
Mix: 50VG/50PG
Activation: Draw Activated
Coil: Mesh Coil
Aroma King GEM 0mg Features
Non-Refillable/Non-Rechargeable
Made In Poland
0mg Nicotine Salt (0%) E-Liquid
Draw Activated
Ideal For Mouth to Lung Vaping
Compact & Light
Convenient & Stylish Design
Non-Refillable/Non-Rechargeable
Aroma King Gem Flavours
Gummy Bear – Sweet gummy bear candy.
Caribbean Crush – Sparkling tropical fruit and coconuts.
Passion Kiwi Guava – Kiwi fruit with passion and guava melon.
Pink Orange Frizz – A chilling pink orange soft drink.
Mr Blue – Mixed berries with aniseed and menthol.
Pink Lady – Strawberry and Apple flavor.
Sour Apple – Sour crisp apples.
Strawberry Kiwi – Kiwi fruits with strawberries.
Watermelon Freeze – Ice cold watermelons with cooling.
Blueberry Pomegranate – Blueberry & Pomegrenate.
Blue Sour Razz – Blueberry and sour raspberries.
Strawberry Watermelon – Watermelons with strawberries.
Pineapple Lemon – Pineapples with sour lemon.
Aloe Cucumber – Aloe vera with cucumbers.
Blackberry Strawberry Blueberry – Blackberries with blueberry and strawberries.
Raspberry Blueberry Lemon – Raspberries with blueberry and lemons.
Watermelon Cherry – Cherry with watermelons.
Blueberry Cherry Cranberry – Blueberries with cherry and sour cranberry.
Cola – Sweet bubbly cola drink with ice.
Vimto – Drink flavor with blackcurrants, apple and grapes.
It comes with
1 x Aroma King Gem Disposable Vape
User manual
See all disposable vapes from Aroma King here.