Aroma King Disposable Vape Zero
Click here if you are looking for Aroma King with nicotine.
The Aroma King disposable vape pod device is a single-piece unit. It comes fully charged straight out of the box and provides a high-capacity 600+ puffs. There is no button, simply attach the filter, inhale and enjoy a rich full-flavored vape.
Disposable Vape Pens are fast becoming the most popular way of vaping for new and long-term vapors alike, Because the no mess no fuss way to vape makes it all simple and easy to use. And the vast range of flavours is absolutely amazing.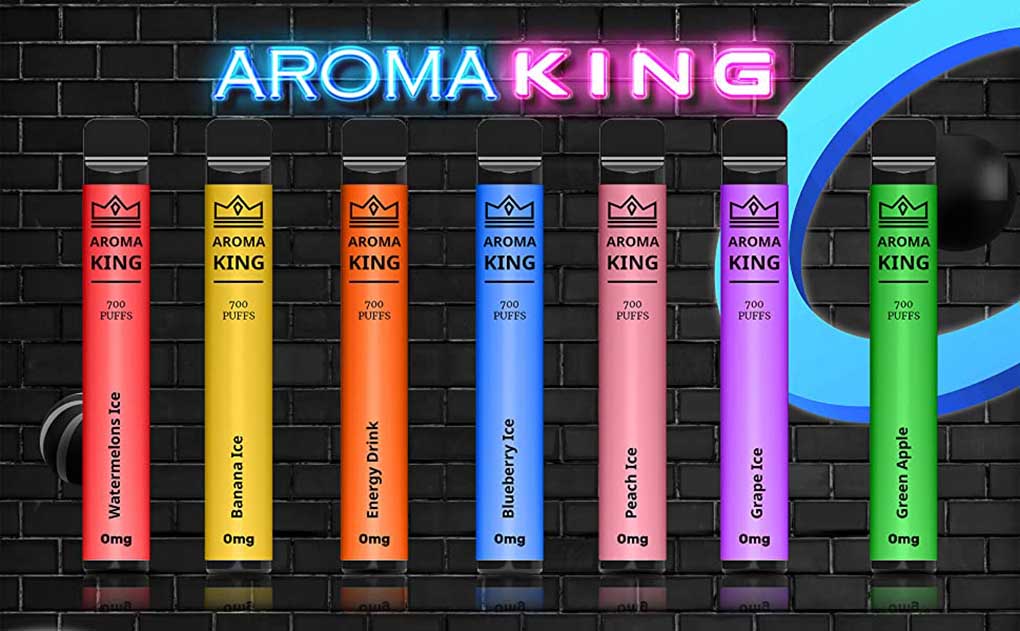 Each portable vape bar comes pre-filled with e-juice that will last you all day.
Aroma King Disposable Zero Features
Puffs: 600 Puffs
Nicotine: Zero nicotine 0%
Flavour: Pre-filled Salt Flavors
Battery: Fully charged 550mAh
How to use Aroma King
1. Open the outer cardboard box and remove the contents
2. Tear the foil packaging and remove the disposable device
3. Remove and discard the silicon plug and label at the bottom of the device
4. Activate the vape by drawing on the end of the pod – an LED light will glow on the bottom of the e-cig
5. The LED light will flash when depleted – at this point, safely dispose of the device
Allergy Warning: THIS VAPE PEN MAY CONTAIN TRACES OF NUTS.
Aroma King Vape Zero Specifications
Buttonless operation – simply inhale
Blue LED light
2ml capacity
Just use it and throw it away once you're done with it
No maintenance, charging or refilling is needed.
Compact, Light, & Portable
It comes with
Aroma King Disposable Vaping Pod
0% Nicotine Salt
User manual