REV POD Mesh Disposable Vape
Rev Pod is a new disposable vape with mesh coil that offers a comfortable and easy-to-use vaping experience. With a simple design and user-friendly features, the Rev Pod is perfect for both experienced and new vapers. It is delivered pre-filled with 2ml e-juice and has a nicotine strength of 10mg/ml and can give approx. 600 puffs.
It is equipped with a powerful battery that provides enough power for long-term vaping. The lightweight and ergonomic design means you can easily carry it in your pocket or purse, making it easy to take with you wherever you go.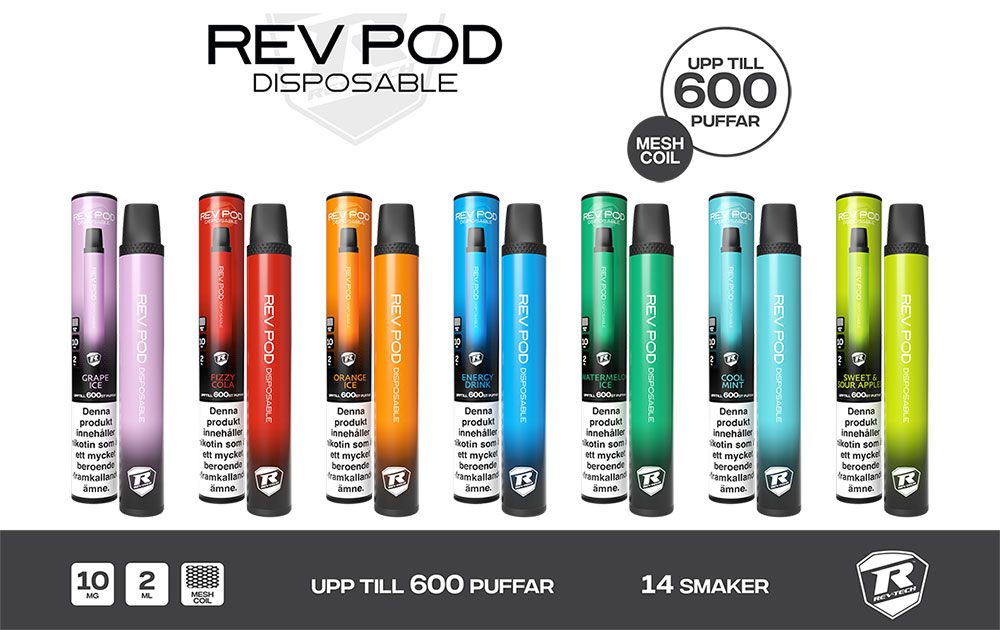 REV POD Disposable Vape Flavors
REV POD Banana Ice – Ice cold sweet bananas with lots of cooling.
REV POD Blueberry – Big American wild blueberries with a little ice.
REV POD Bubblegum – Minty and sweet flavor bubble gum.
REV POD Cool Mint – Classic flavor of ice cold mint.
REV POD Energy Drink – A bubbly energy drink with a little chill.
REV POD Fizzy Cola – Soft drink flavor with well-chilled Cola drink with ice.
REV POD Grape Ice – Sweet grapes with plenty of cooling.
REV POD Grapefruit & Passion – Exotic passion fruit with grapes and ice.
REV POD Mango Ice – Sweet  mango with cooling cooling.
REV POD Mixed Wild Berries – Taste of wild mixed berries.
REV POD Orange Ice – Citrus and orange flavor with a little cooling.
REV POD Peach Ice – Sweet peaches with a lot of cooling.
REV POD Pineapple Ice – Juicy pineapple with cooling.
REV POD Sour Blue Raspberry – A  flavor of tart blue icy raspberries.
REV POD Strawberry & Banana – Sweet strawberries together with banana and some ice.
REV POD Sweet & Sour Apples – Sweet and sour apples with a little chill.
REV POD Watermelon Ice – Juicy watermelons with cooling.
Revpod Specifications
Nicotine strength: 10mg
Nicotine type: Nicotine salt
E-juice: 2ml
PG/VG mix: 50/50
Puffs: Up to 600 Puffs
Ingredients
Vegetable glycerin, propylene glycol, nicotine, benzoic acid, flavorings.
The Revpod e-cig is equipped with an automatic draw activation, meaning you don't need to press any button to start vaping. This provides simplicity and convenience to the user.
With the Rev Pod, you don't have to worry about having to replace the coil or refill e-juice. When the device is empty, simply throw it away and buy a new one. This makes it an easy and convenient option for vape users who want a disposable vape that works instantly without any extra effort.
In conclusion, the Rev Pod is a practical and reliable device for vaping. Its simple design and user-friendly features make it an excellent option for anyone looking for a comfortable and easy-to-use vape.
Delivered with
1 x Rev Pod Disposable vape 10mg nicotine
Swedish Manual
See all our disposable vapes here.