Lost Mary BM600 Disposable Vape (Nicotine Free)
The all new Lost Mary BM600 0mg is the most convenient way to enjoy nicotine-free vaping. It is compact and effortless to use, and with its unique bottle-shaped form it is ideal for on-the-go vaping. Fitted with a large battery and pre-filled with 2ml of nicotine free e-liquid, the BM600 delivers up to 600 puff and comeds with mesh coil.
Leading vape brand Lost Mary, by Elf Bar, has designed this disposable vape to deliver a large amount of vapour, and a MTL (mouth-to-lung) style inhale to not only satisfy the needs of those looking to quit smoking but also those who want to vape without nicotine.
With a slim and compact form factor, the Lost Mary BM600 disposable measures 66mm in height with a width of 35mm and is 16mm in diameter making it very portable. Incredibly easy to operate, it is powered by a simple inhale activation and has no fire button or fiddly settings.
Manufactured to the highest standards, the nicotine-free BM600s are leakproof and offer the perfect performance right up to disposal.
Blueberry – A sweet fresh blueberry flavor combined  with ice.
Blue Razz Ice – Blue raspberries with strong cooling.
Blue Razz Cherry – Blue raspberries combined with cherry and cooling.
Blueberry Sour Raspberry – Sour blueberries with raspberry.
Cherry Ice – Ice cold cherries.
Cherry Peach Lemonade – A sweet peach lemonade with cherries.
Double Apple – A fresh and sweet apple flavor.
Grape – The classic grape flavor with low ice.
Kiwi Passionfruit Guava – Passionfruit, kiwi and guava melons with a little ice.
Mad Blue – Blue forest berries with low cooling.
Marybull Ice – A energy drink made Lost Mary's way.
Menthol – Ice cold menthol flavor.
P&B Cloud – Blue raspberry cotton candy flavor.
Peach Ice – Ice cold sweet peaches.
Pineapple Ice – Sweet pineapple with lots of cooling.
Pink Lemonade – The classic pink lemonade drink flavor.
Pink Grapefruit – Pink grapefruit lemonade with low ice.
Red Apple Ice – Fresh red apples with a lot of cooling.
Strawberry Ice – Sweet lovely strawberries with loads of ice.
Strawberry Kiwi – Freshly picked strawberries with kiwi fruits.
Triple Mango – Three different types of sweet mango fruits.
Triple Melon – Honeydew, net-melon and watermelons, all in one.
Watermelon Ice – Pure watermelon heaven with cooling.
Watermelon Lemon – Sour lemons combinedc with watermelons.
Features BM600
2ml capacity of nicotine-free e-liquid
Manual draw activation
350mAh Battery
600 puffs per device
Mesh Coil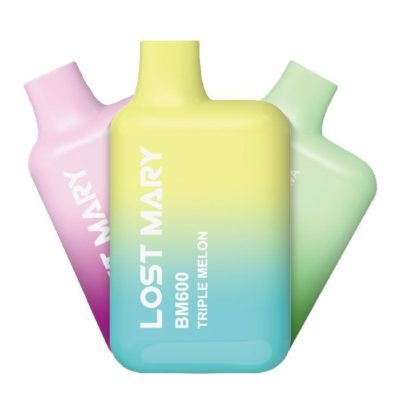 Lost Mary FAQs
What is the best Lost Mary BM600 (Nicotine Free) flavour?
How many puffs does a Lost Mary BM600 (Nicotine Free) have?
What are the benefits of using nicotine-free Lost Mary BM600 Bars?
How do I use a Lost Mary BM600 (Nicotine Free) disposable vape?
How long does the Lost Mary BM600 (Nicotine Free) last?
How do I know when the BM600 (Nicotine Free) disposable vape is running low on battery?
How to recharge a Lost Mary BM600 (Nicotine Free)?
Can I refill the BM600 (Nicotine Free) disposable vape with my own e-liquid?
What are the ingredients used in a BM600 (Nicotine Free)?
Is the BM600 (Nicotine Free) disposable vape legal in Sweden?
How can I recycle my BM600?