VapeM8 VM7000 Mesh Disposable Vape ZERO Nicotine
We can now prodly introduce our very own disposable vape with incredible 7000 puffs and USB-C!
The Nicotine Free VM7000 Vape bar from VapeM8 has a lagre built in battery and comes prefilled with 16ml premium juice. The VapeM8 VM7000 disposable pod kit can deliver up to 7000 puffs and can be recharged with USB-C cable (not included). It has a powerfoul mesh coil to provide you with excellent taste.
VapeMate VM7000 Disposable Kit comes in a surprisingly slim package considering the many puffs, this is the true embodiment of a solid and effective disposable vape. It also has adjustable airflow so you can adjust the resistance to your personal needs.

VapeM8 VM7000 Disposable specifications
E-liquid Capacity: 16ml
Nicotine Strength: 0% Nicotine Free
Battery Capacity: 600mAh
Charging: USB-C (Cable noy included)
Charging Time: 1.5 Hours
Puff Amount: Up to 7000 puffs
Coil: 1.05 Mesh Ohm
Size Diameter: 28. 3×18. 6mm
Size Height: 110mm
Designed in Sweden
The Nicotine free VM7000 disposable e-cigarett has the classic shape and feel of a modern disposable, it enlists a trio of intense flavour, long battery life and discreet vapour production.
Boasting a highly impressive MTL inhale and a wide mouthpiece, the hit you get with these disposables replicates the same inhale experienced when smoking a cigarette – minus many of the harmful chemicals and unpleasant smell.
You have a wide selection of 10 differant nicotine free flavors which we have carefullt selected and most of thye vape flavors have a toned down amount of cooling agent in order to focus more on the more buoyant flavours.
Flavors Selection VapeMate VM7000
Blåbärsbubbelgum – A great taste of bluberry bubblegum.
Jordgubbsshake – Here is a sweet strawberry milkshake.
Cool Vattenmelon – Ice cold fresh watermelon slices.
Granatäpple Jordgubb-Kiwi – Pomegrenades with strawberry and kiwi flavor.
Persika Blåbär – Sweet peaches combined with fresh blueberries.
Svartvinbärs Mentol – Blackcurrants with icy menthol.
Blå Hallon – The classic flavor of chilled blue raspberries.
Litchi Ros – This is a truly unique flavor of lychee and rose.
Tutti Frutti – A sweet mixed candy flavor.
Aloe Druva – One of the best in the series, aloe with grape.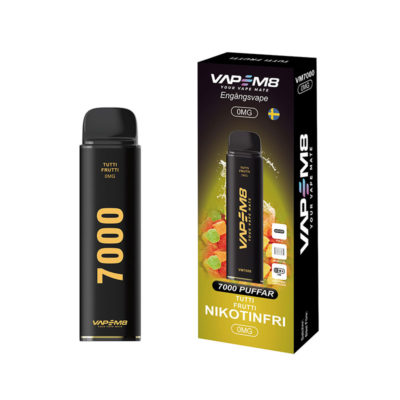 Do you want to sell VampeM8 in your shop? – Contact us for questions about wholesale.
FAQ
Can you sell disposable vapes with 7000 puffs in Sweden?
Yes, as long as it does not contain nicotine or is refillable.
Do you have to charge the VM7000?
Yes, you need to charge it because the e-juice lasts much longer than the battery does. You charge it with a standard USB-C cable, but remember that it does not come with one in the package. However, you can use a normal mobile charger.
Is VM7000 also available with nicotine?
No, disposable vapes with nicotine only contain a maximum of 2ml e-juice, but there you have VapeM8 VM800 instead.
It comes with
1x VapeM8 VM7000 Disposable Vape Pod (7000 Puffs) Zero Nicotine – No USB cable
1x User manual
See all disposable vapes from VapeM8 here.