Geek Bar x Vampire Vape Disposable Vape
The Vampire Vape Geek Bar disposable device is a simple option that features Vampire's favourite flavours. Each bar is small enough to fit in your pocket and can outlast 30-40 cigarettes. This disposable requires no set-up and can be used straight out of the box, plus, you'll never have to refill or recharge it – just replace it with a new one. Containing 2ml of e-liquid and capable of delivering up to 575-625 puffs it's a longer-lasting option.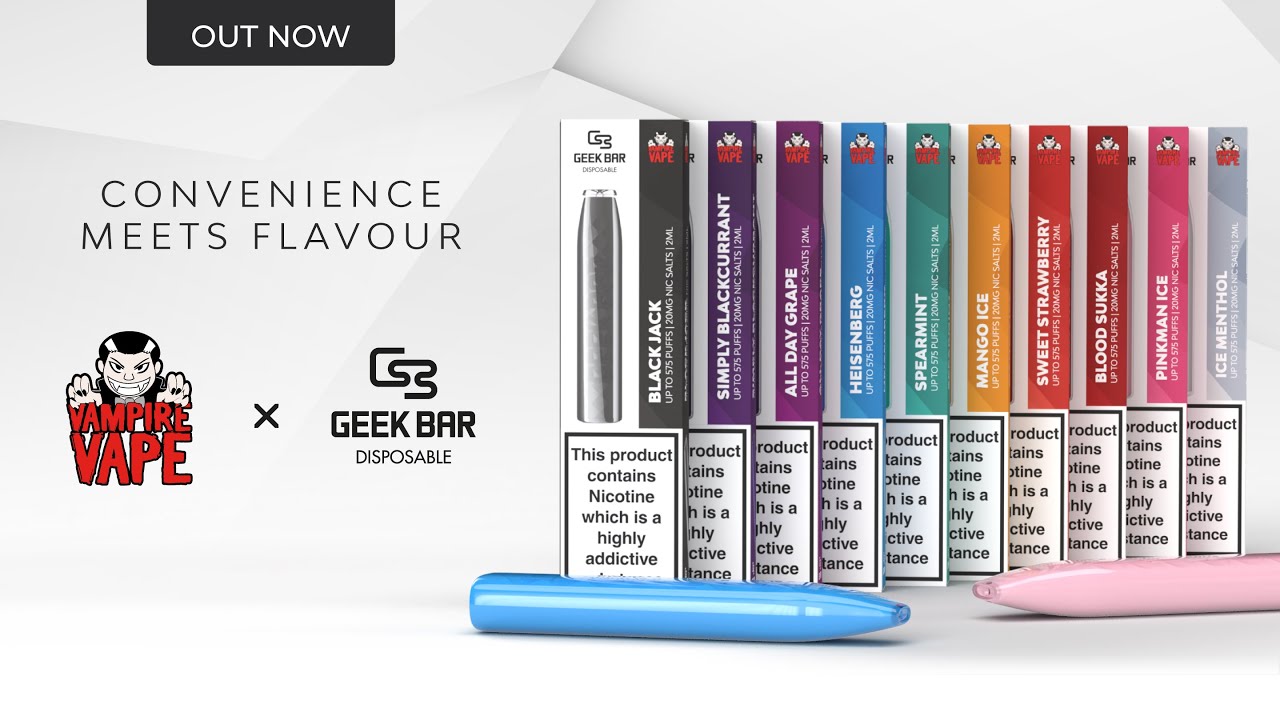 Geek Bar x Vampire Vape Features
Geek Bar Disposable
Vampire Vape E-Liquid
Beginner-Friendly
Leakproof Vape
575-625 Puffs – Outlasts 30 Cigarettes
20mg Nic Salt
MTL Vaping
Inhale Activated
You don't need any vaping experience to use the Geek Bar, inhaling on the device's mouthpiece activates it and there are no buttons or menu systems to deal with. This inhale activation can feel more natural and the device produces a small amount of vapour for an MTL (Mouth to Lung) inhale just like a cigarette. A firm favourite amongst new vapers, disposables like this are also a handy backup thanks to their compact design.
Available Flavours
Black Jack – Loaded with a mildly spiced liquorice and aniseed, this flavoured Geek Bar will give you the taste of candy with every puff.
All Day Grape – The refreshingly sweet and juicy grape flavour with its intense ice-cold aftertaste.
Simply Blackcurrant – Bursting with the dark fruity taste of fresh blackcurrant, delivering a naturally rich fruity taste with every puff.
Ice Menthol – Enjoy the crisp burst of icy freshness with this Geek Bar that promises to deliver a sharp frosty taste of menthol with every ice-cool puff.
Blood Sukka – An explosion of sweet berries and juicy cherries topped off with a hint of eucalyptus with a dash of menthol makes this Geek Bar unmissable.
Pinkman Ice – If you've ever experienced the award-winning flavour of Pinkman red fruits, you won't want to miss this Geek Bar with its ice-cool twist.
Spearmint – The subtle taste of menthol just adds to this classic chewing gum flavour Geek Bar that will see you savour every delicious puff of spearmint.
Heisenberg – You're definitely in for a treat with this Geek Bar filled with the award-winning mixed berries fruit sensation with its cool menthol kick.
Mango Ice – A Geek Bar packed with the tropical flavour of sweet mango with an icy-cool kick for a refreshingly fruity taste with every delicious puff.
Sweet Strawberry – Enjoy the sweet taste of summer in this Geek Bar packed with the flavour of mouthwatering red strawberries that caress your tastebuds.
Creating a smoother throat hit, the 2ml of e-liquid in each bar uses nic salt. A wide range of flavours are available in the range, including some of Vampire Vape's best-selling blends like Heisenberg.
It comes with
Vampire Vape Geek Bar Disposable Vape