ZoVoo Dragbar Disposable Vape LED
The ZoVoo Dragbar Disposable vape device which consists of a 500mAh battery and a 2ml tank, which delivers approximately 600 puffs before the device is thrown away. The device contains 20mg/ml (2%) of nicotine salt. Each vape comes in a different color so it's easy to tell them apart. They all have a vibrant and colorful look with a large LED-light that flashed when you vape it.
ZoVoo is a subsidiary of the renowned manufacturer of VooPoo devices, which develops and manufactures disposable devices.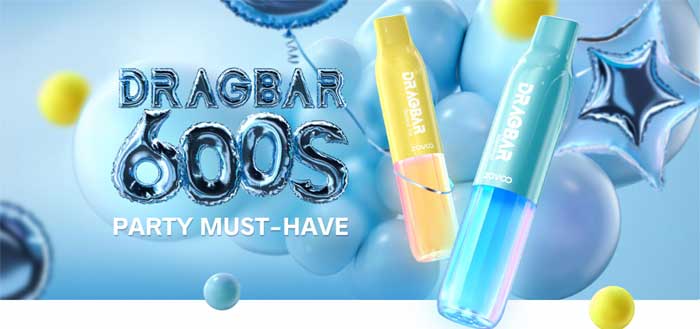 Drag Bar Specifications
Size: 20 * 96mm
Puffs: 600
Capacity: 2ml
Battery Capacity: 500mAh
Material: PC, ABS
Coil Resistance: 1.5ohm
Salt Nicotine: 2% (20mg)
ZoVoo Disposable Vape Flavors
Peach Ice – Sweet peaches with cooling.
Grape Ice – Grapes with cooling.
Green Apple Ice – Green apples with cooling.
Strawberry Ice – Fresh strawberries with ice.
Menthol – Ice chilling menthol flavor.
Banana Ice – Bananas with cooling.
O.M.G. – Orange, Mango and Grape with a little ice.
Mango Ice – Loads of mangoes wirh chilling cooling.
Lush Ice – Watermelon with cooling.
Tobacco – Classic tobacco flavor.
The DragBar 600S Disposable POD boasts great portability thanks to its compact design. Nicotine salts allow you to vape nicotine with greater absorption speed, with less throat hit, improving your vaping experience for those who seek sensations similar to traditional cigarettes.
The new Drag Bars are the sensation because they provide that clean flavor that you expect from a disposable, all the duration that you want to obtain and all the throat hit that you need.
Now with a design with colored RGB LED light that lights up every time it is vacuumed, unleashing a party of colors that will impress whoever sees it. Ideal to start vaping, the DragBar Disposable Pods provide you with simple operation, you will only have to take it out of the box and draw through the mouthpiece without worrying about charging or liquid refilling, or leaks and once depleted, you can discard the pod.
It comes with
1x Voopoo Drag Bar LED Disposable Vape 20mg
1x Swedish user manual