Nasty Fix 2.0 Disposable Vape Kit
They new Nasty Fix 2.0 is an upgraded version of the original Nasty Fix disposable vape device. It has been redeveloped with an upgraded 700mAh battery which provides an output of around 675 puffs. This is roughly equivalent to 50 traditional cigarettes, depending on your vaping style.
Nasty Fix 2.0 also now features AIRFIX, which is a simple, adjustable airflow system to allow users refinement and increased flexibility when vaping. This way you can cusomize youre vaping experiance. This vape bar has been developed to deliver the most popular Nasty Juice flavours in the most convenient and straight forward way, ready to use right out of the box.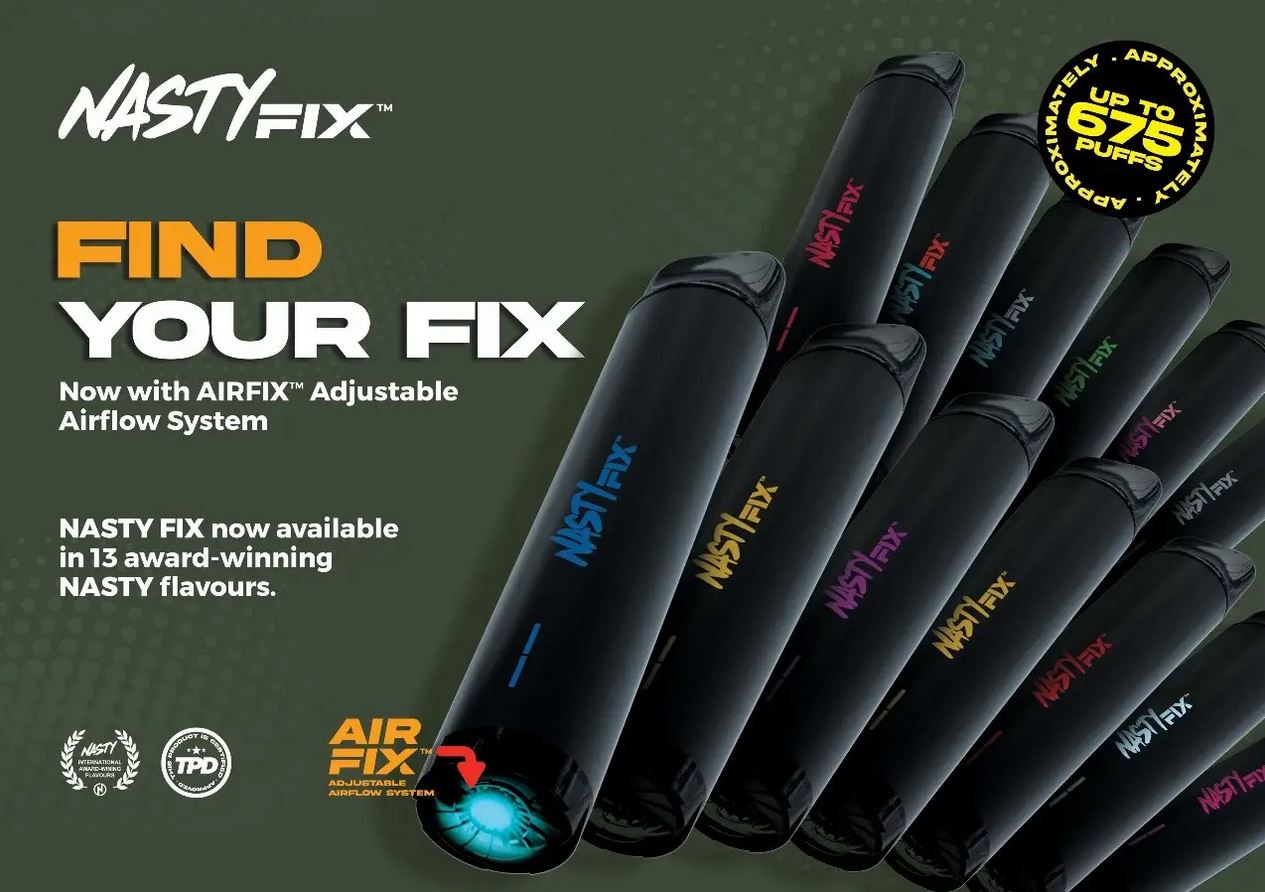 Nasty Fix Disposable Flavors
ASAP Grape – A quenching sweet and sugary black grape with a hint of berries.
Blackcurrant Cotton Candy – Sweet, intense and satisfying blackcurrant with a pleasant hint of soft cotton candy.
Bloody Berry – A fruity beverage flavour, with sweet and sour lemonade, ripe raspberries and a touch of mint.
Blue Raspberry – Blue minty berries with a cool minty kick.
Mango Cushman – Nasty Juice Cush Man is a blend of the world's finest mangoes with light mint.
Cushman Banana

– 

A perfect blend of sweet summer mangoes and light bananas, with light mint.

Double Apple

– Sweet ripe red apple on the inhale, followed by crispy green apple on the exhale.

Menthol

– Subtle hints of sweetness, leaving you with the perfect menthol flavour.

Pineapple Lemonade Slow Blow

– A  pineapple and zesty lime soda.

Strawberry Trap Queen

– A thrillingly fresh and sweet strawberry fruit flavour.

Vanilla Tobacco

– A smooth and sweet tasting, vanilla tobacco flavour.

Watermelon Ice

– A refreshing combination of mouth-watering and juicy watermelons, topped with a dash of ice.

Blackcurrant Lemonade Wicked Haze

– A mixture of sweet blackcurrants blended together with freshly squeezed lemonade.
Nasty Fix Disposable Vape Features
Compact & light
Hassle-Free & easy to use
Same great taste and satisfaction as regular Nasty Juice e-liquids
Convenient and portable
1/2% (10/20 mg) nicotine strength
Powered by a 700 mAh battery
Contains 2ml of Nasty Salts e-liquid
Delivers approximately 675 puffs
Frequent Questions & Answers (FAQ)
How many puffs are in a Nasty Fix 2.0 kit?
– Each device gives approximately 675 puffs.
How long do Nasty Fix 2.0 kits last?
– Each Nasty 2.0 kit provides a similar vaping time to 50 cigarettes.
What's in a Nasty Fix 2.0 kit?
– One kit contains 2ml of 20mg (2%) nicotine salt e-liquid. The device also contains a 700mAh battery, designed to last long enough for the 2ml of nic salt vape juice to be vaped.
Unsure if a Nasty Fix 2.0 Disposable Kit is right for you? –
Disposable vapes definitely have their benefits, but they also have their drawbacks. In the interest of balance, we have outlined the pros and cons in our disposables guide, to help you make an informed decision.
Nasty Fix Distribution/wholesale – Do you want to get Nasty for your shop? – Contact us iva our new distrosite engångsvape24.
Nasty Fix 2.0 Disposable Vape Specifications

| | |
| --- | --- |
| Product name: | Nasty Fix 2.0 Disposable Vape Kit |
| Strengths: | Available in 10/20 mg Nic Salt strength |
| Battery Capacity: | 700 mAh |
| Pod: | Pre-filled with 2ml of nicotine salt e-liquid |
| Puffs: | Approximately 675 puffs |
It Comes with
1x Nasty Fix 2.0 Disposable Vape Pod 675 Puffs