Voom Iris Mini 600 Disposable Vape
New Voom Iris Disposable Pod Device 600 Puffs, consists of an all-in-one disposable pod designed with a 2ml Tank. Small, compact & perfect to carry around. Powered by a Re-chargeable 350mAh built-in battery it's a beautiful stylish design. Activated simply by the inhale, the Voom Iris Disposable Pod Device is made for your vape convenience.
The Voom Iris Disposable Pod Device utilizes 2% salt nicotine which is far smoother on the throat with faster absorption.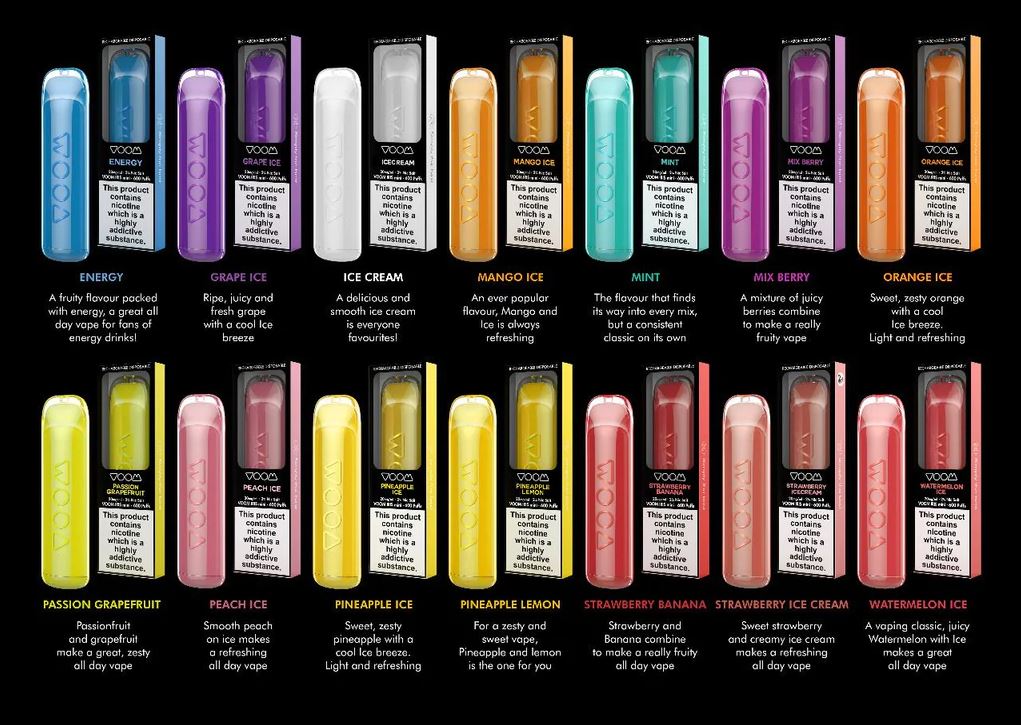 Voom Iris Mini Bar Features
Disposable Design – Non-Refillable
Battery: 350mAh inbuilt battery (re-chargeable)
Approx Puffs: 600 Puffs
Pod capacity: 2ml Pre-refilled eliquid
Draw activated
Salt Nicotine Strength: 20mg
Voom Iris Disposable Bar Flavours
Voom offers a lot of fun and exciting disposable vape flavours to cater to everyone's taste. Despite having a smaller selection than some of their competitors, their carefully selected range is renowned for its smooth taste and long lasting flavour. Voom Iris Mini flavours include:
Pineapple Lemon
Banana Ice
Blackcurrant Grape
Ice Cream
Cola
Blackcurrant Lemonade
Orange Ice
Energy
Passion Grapefruit
Apple Ice
Pineapple Ice
Blue Raspberry
Grape Ice
Mango Ice
Peach Ice
Strawberry Banana
Voom Iris Disposable Vape Pod FAQ
– Do Voom vapes have nicotine?
Yes, Voom disposables contain nicotine in the form of nic salts e-liquid. Each Voom disposable comes pre-filled with 2ml of 20mg nic salts, perfect for delivering long-lasting and fast-acting nicotine satisfaction along with silky-smooth throat hits for an authentic MTL vaping experience for up to 600 puffs per device.
– How do I recharge my Voom?
The Voom Iris Mini is a unique disposable that can be recharged when the 320mAh battery runs out, ensuring you make the most of every last drop of delicious e-liquid. To recharge your Voom disposable, simply plug a USB-C cable into the base of the device and connect it to a power source for a fully charged battery in under an hour.
– How long do Voom vapes last?
Each Voom disposable will provide up to 600 puffs of pure vaping pleasure. However, this is just an estimate and the exact puff count will depend on your individual vaping style. If your Voom vape runs out of charge, simply recharge the battery to ensure you've used up all of the e-liquid inside before starting a fresh one.
It comes with
1 x VOOM IRIS Mini Disposable Vape Pod Device 600 Puffs