Geek Bar Disposable Vape by GeekVape
Here comes the Geek Bar disposable vape, created by GeekVape, is an affordable alternative to vaping or smoking. The Geekbar can deliver up to 625 puffs, it lasts longer than 40 cigarettes. You can Select from 19 different flavours, including class tobacco and plenty of fruity options at a high 20mg nic salt strength. It has a stylish vibrantly coloured design and a 500mAh throw-away kit, it is an alternative for new vapers as well as experianced ones that's above all else convenient.
Click here for the nicotine free version of Geek Bar.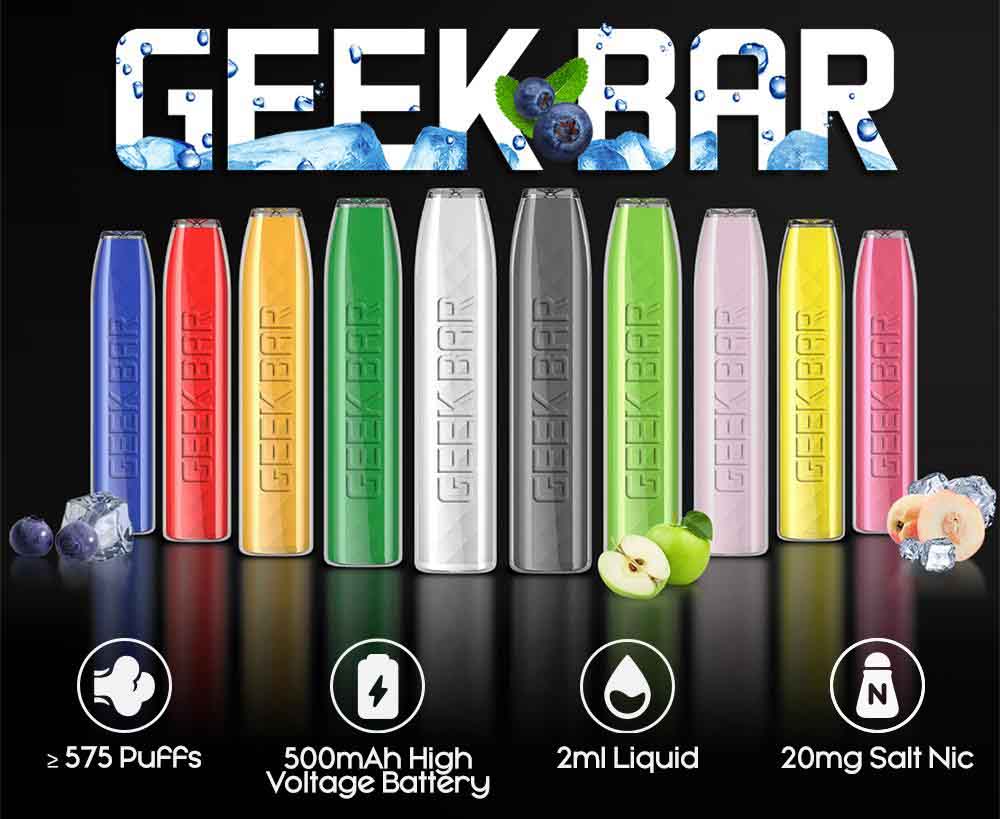 Geek Bar Vape Features
20mg nic salt e-liquid
500mAh Built-In Battery
Designed for mouth to lung vaping
575-625 puffs
2ml pod capacity
Auto-draw activation
LED battery life indicator
Organic cotton wick
Sustainable recyclable product
Geekvape Vape Bar Flavours
Tobacco – Classic earthy and woody
Menthol – Consistently minty throughout
Bloody Bull – Like the very classic energy drink
Blueberry Ice – Sweet and tarty, boasting a smooth icy exhale
Lychee Ice – Super sweet with ice at the end
Mango Ice – Sweet and tropical with ice finish
Peach Ice – Sweet and mellow, with ice finish
Sour Apple – Tangy with sour aftertaste, subtle ice edge
Sweet Strawberry – Juicy and sweet, with subtle ice edge
Watermelon Ice – Fresh and sweet, with ice finish
Blackcurrant Menthol – Devilishly sweet with a minty exhale
Blueberry Bubblegum – A sweet candy favourite with a mild fruit taste
Blueberry Sour Raspberry – Tangy fruity flavour with a mixture of berries
Geekberg – Get your geek on with icy mixed berries
Guava Ice – Sweet Guava with cooling.
Green Mango – Tropical flavour bursting with personality
Kiwi Passion Fruit – Exoctic flavours with each vape from the tangy fruit
Pink Lemonade – A beverage classic, smooth and ready to vape
Strawberry Ice Cream – A sweet delicate e-liquid with rich dessert flavours
Geek Bar FAQ
What is a Geek Bar disposable Vape?
Geek Bars are a brand of disposable vape pens that sold all over the globe thanks to its simple functions and funky, vibrant colours. The Geek Bar Vape comes pre-filled with 20mg nic salts in a wide variety of flavours including sour apple, lychee ice, strawberry ice cream and many more. The nicotine salts in the Geek Bars allows a much higher nicotine strength to be vaped, without the harsh throat hit whilst keeping an intense and long-lasting flavour. Geek Vape Geek Bar also comes pre-charged with a simple draw activated inhale method, so all you need to do is unwrap and inhale – it really is that easy! On average, the Geek Bar will give around 575 puffs, but obviously, this all depends on the type of vaper you are. If you are a social vaper then the Geek Bar will last much longer than someone who is a heavy vaper and uses the Geek Bar all day.  There are no buttons or switches to worry about, and the Geek Bar Vape has an LED indicator that will let you know when the battery is running low – the perfect choice for those who are just starting out.
How the Geek Bar Geek Vape works
Geek Bar Vape comprises a battery pack, e-liquid tank, coil, and a mouthpiece. Geek Bars use a simple draw activation method that simply requires you to inhale to produce the vaper. As you inhale, the device will start automatically, and the battery will heat up the coil. This then converts into heat which vaporizes the liquid in the tank. As you inhale, the vapour will travel through the mouthpiece and into your mouth. Geek Bar Geek Vape really is one of the easiest to use vape devices on the market, and all you need to do is inhale and vape!
The benefits of the Geek Bar Vape
Cost – one of the appeals of the Geek Bar is that it is incredibly pocket friendly, especially for those who are just starting out. You buy the complete package, and you don't have to worry about buying separate e liquid, coils, or battery packs.
Flavours – Geek Bar Geek Vape is available in a wide variety of flavours so there is something to suit everyone. The nicotine salt liquid also means that the taste is intense and long lasting, without making you cough!
Design – Geek Bars are available in complementing colours to the flavour that you choose, and all of them are vibrant and funky with a modern diamond design outer case. They are slim and pocket friendly, which means you can carry it around all day without feeling weighed down by a bulky device.
Discreet – Geek Bars are pre-filled with nicotine salts, you don't have to worry about massive cloud production. They offer the perfect mouth to lung vape experience, and you can use it discreetly wherever you are.
It comes with
1 x Geek Bar Disposable Vape Pod
Useful Reading