Dinner Lady Disposable Vape Pen Pod
The Dinner Lady Vape Pen Pod is a disposable vape device, it's recommended for users of all types especially those switching over from smoking. The disposable vape pen is super light with streamlined pen design, this 400mAh disposable vape pen is prefilled with 1.5ml of 20mg salt nicotine eliquid, delivering approximately 400 puffs (equivalent to over 20 cigarettes) per lifespan.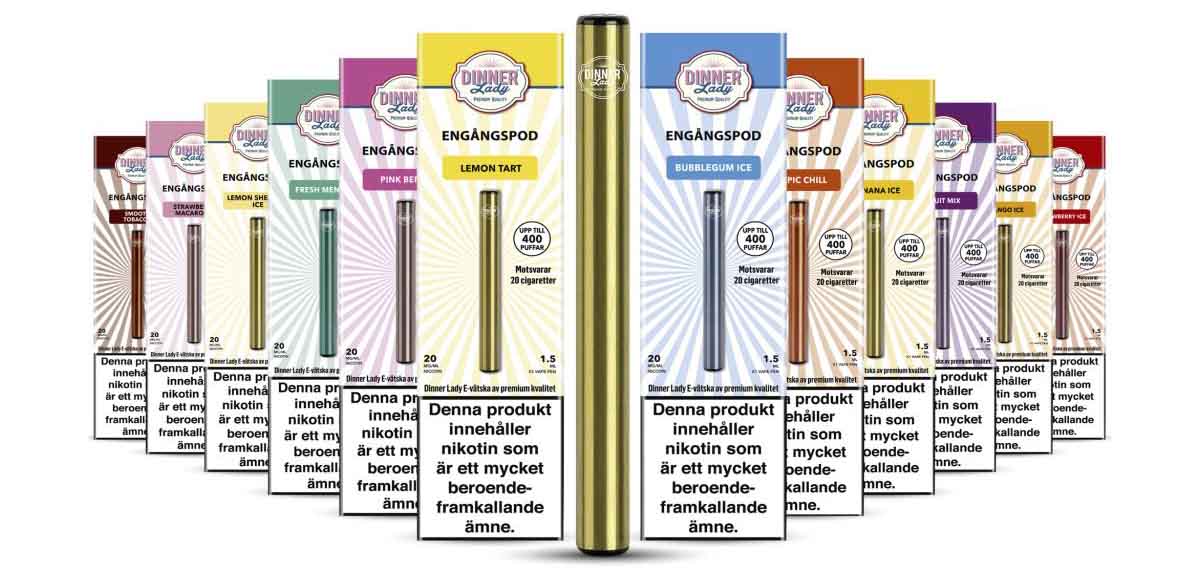 Dinner Lady Disposable Features
Dinner Lady Disposable Device
Lightweight Pen Design
400mAh Built-In Battery
1.5ml E-Liquid
Inhale Activated
400 Puffs/Outlasts 20 Cigarettes
Organic Cotton Wick
20mg Salt Nicotine Blend
40% VG / 60% PG
Dinner Lady Pod Flavour Profiles
Banana Ice –  Banana, vanilla cream with koolada
Citrus Ice –  A fusion of lemon, lime and orange with koolada
Strawberry Macaroon –  Strawberries with a butter biscuit crust with notes of coconut cream
Strawberry Ice –  Strawberries, vanilla cream, koolada and notes of citrus
Lemon Tart –  Lemon Tart with a butter biscuit crust; notes of meringue
Fruit Mix –  Red berries, grapes, currents, citric fruits with koolada
Bubblegum Ice –  Berry, bubblegum with koolada
Lemon Sherbets Ice –  Sweet and sour sherbet with koolada
Mango Ice –  Sweet mango with koolada
Pink Berry – A combination of sweet citrus and mixed berries
Blue Menthol – Forest fruits with a menthol base
Smooth Tobacco – Flu cured kentucky tobacco
Fresh Menthol – Crisp and refreshing with a cooling menthol taste
With no setup or maintenance required, the Dinner Lady Disposable Vape Pen is one of the easiest devices to use on the market. The 400mAh battery provides a generous lifespan whilst an inhale activation offers a simple operation with no buttons required. This device delivers a flavourful MTL (Mouth To Lung) vape and when completely consumed, dispose and replace appropriately.
The Dinner Lady Disposable Vape Pen is prefilled with 1.5ml of eliquid, containing a 20mg salt nicotine blend for a smooth throat hit whilst the use of organic cotton wick provides long-lasting, rich flavour.
It comes with
1x Dinner Lady Disposable Vape Pen Pod