Wotofo Profile PS Dual Mesh RDA
The Profile PS is very easy to build on. It has larger deck space and all the wonderful features that the original Profile deck has, like the clamp-securing system and the spring-loaded ceramic support for effective mesh-and-cotton contact. In addition to direct dripping method of juice feeding, the Profile PS is also squonkable, and it also features a massive 3ml juice well. All the original Profile RDA meshes can work with the Profile PS Dual Mesh RDA.
And a new mesh designed especially for the Profile PS is now added to the family, which means you can also use it on your Profile RDA. We also have the x-fiber cotton. The Profile PS Dual Mesh RDA has flexible honeycomb airflow design & smooth air inflows to straighten it out to evenly hit on heating coils for greater efficiency.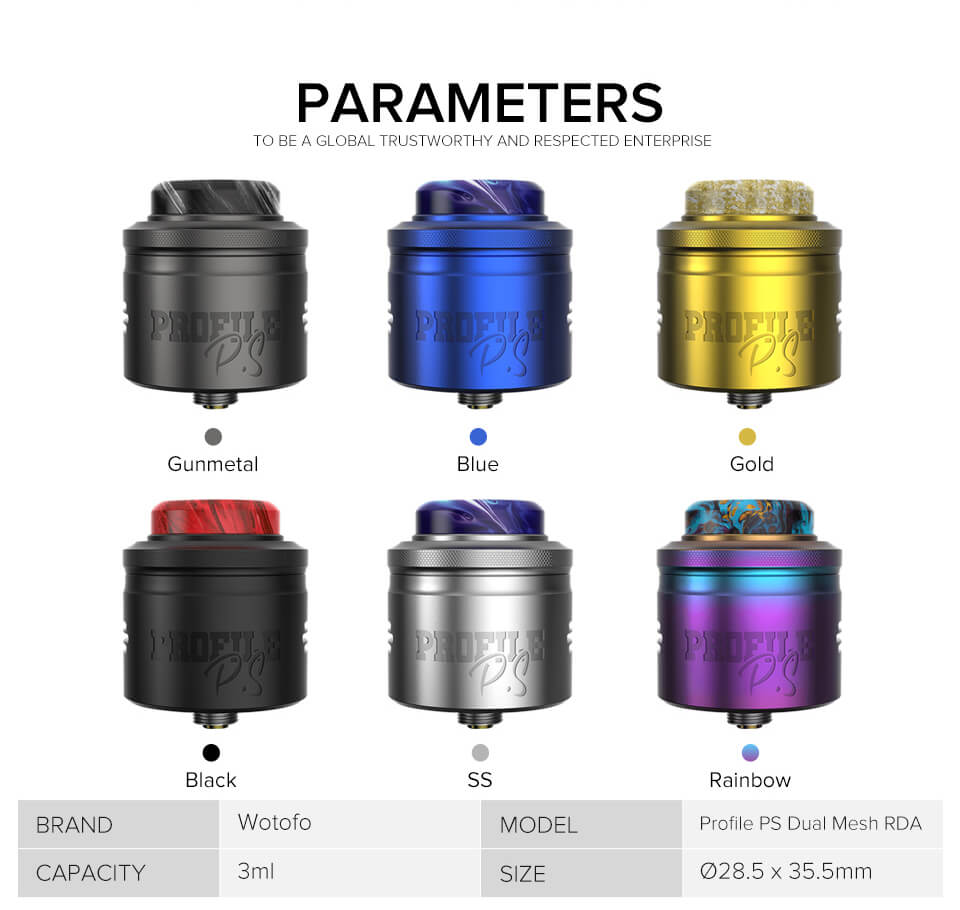 Profile PS Dual Mesh RDA Features
1. Support double mesh wire building, clamp-securing and spring-loaded ceramic system
2. Massive 3ml juice well capacity, direct dripping & bottom BF filling
3. Compatible with 4 kinds of mesh prebuilt wire
4. Flexible honeycomb airflow design, smoothening air inflows
5. Support turning the usual parallel deck into a series deck, to be safer with law resistance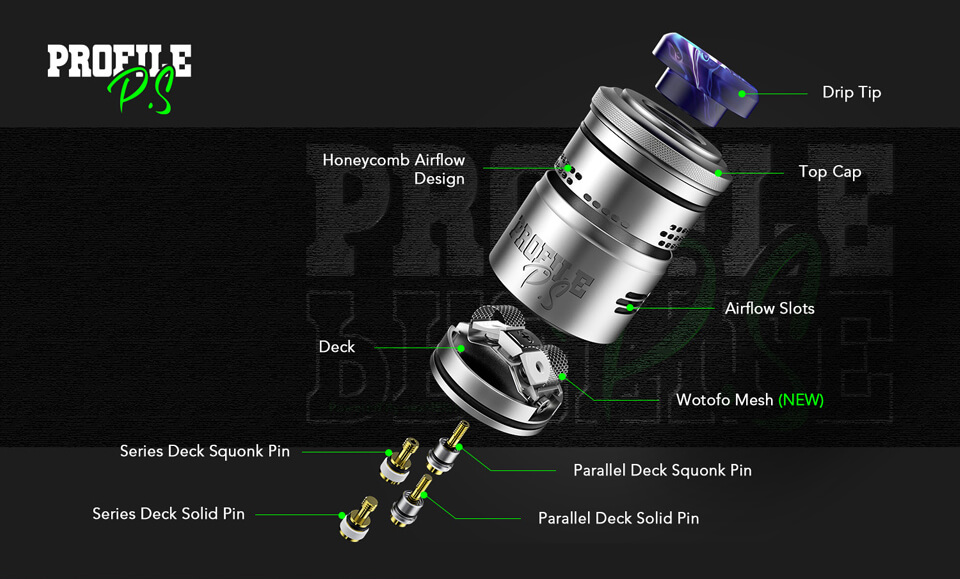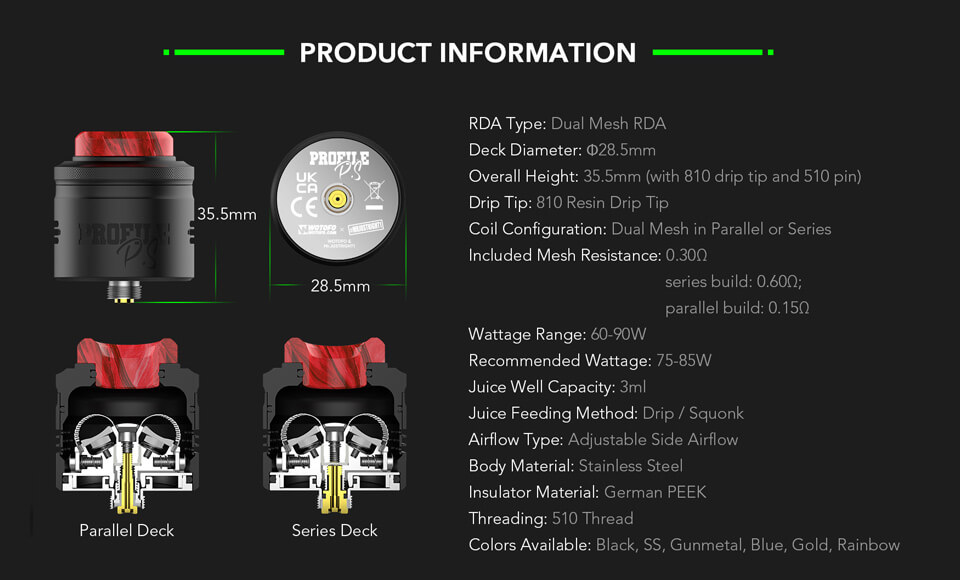 Wotofo Profile Dual Mesh Parameters
Size: Ф28.5* 35.5mm(with 810 drip tip and 510 pin)
Juice Capacity: 3ml
Color: Black, SS, Gunmetal, Blue, Gold, Rainbow
Material: Stainless Steel & German PEEK Insulator
Drip Tip: 810 Resin Drip Tip
Configuration: Dual Mesh in Parallel or Series
Included Mesh Resistance: 0.3ohm, 0.6ohm(series build), 0.15ohm(parallel build)
Wattage Range: 60-90W(best 75-85W)
Juice Well Capacity: 3ml
Thread: 510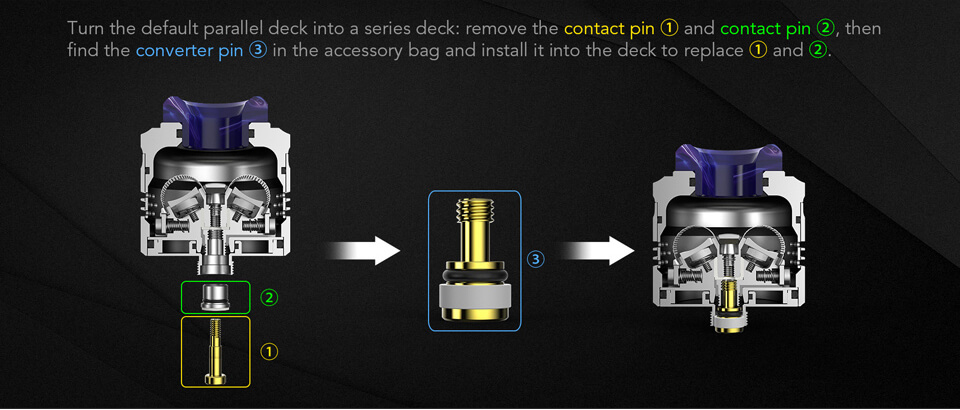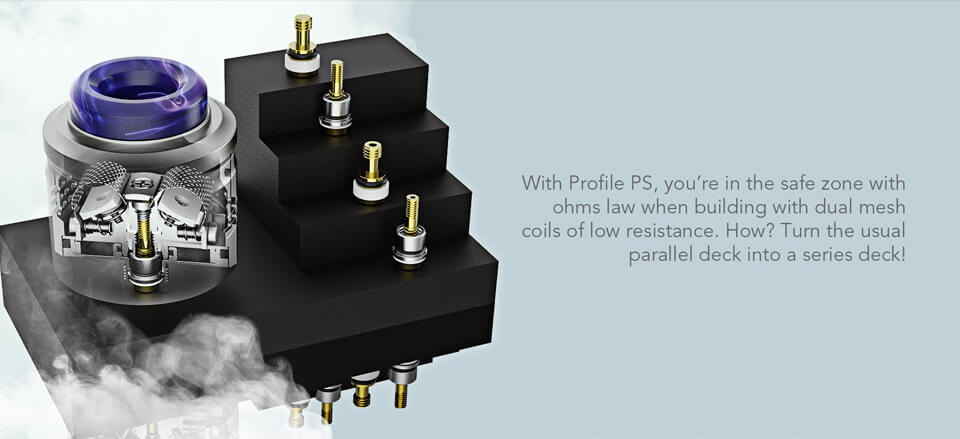 It comes with
1 x Profile PS Dual Mesh RDA
2 x 0.3Ω Mesh
2 x 6mm Thick Cotton Strip
1 x Bending Tool
1 x Cross Head Screwdriver
1 x Allen Key
1 x Accessory Bag
1 x User Manual