Nicotine 100mg/ml (10%) PG-base
By the new TPD regulations we can no longer sell 100mg Nicotine to Sweden.
However you can use 10ml 18mg Nicotineshots to add nicotine instead or just by the e-juice you want with nicotine from us.

How to add a nicotine shot to your shortfill bottle of e-liquid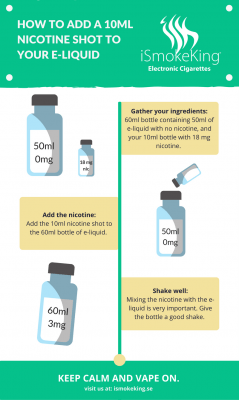 Read more about Shortfill and Nicotine Shots here.
Nicotine 100mg/ml (10%) Specifications
Our 10% nicotine base is unflavored and is dedicated only for DIY mixing. We advise any user to do all nicotine mixing in a laboratory or in well-ventilated areas where there are no kids or pets nearby and has easy access to exit.
Use our Nicotine Calcylator to get your desired strengh. In our accessories section you will find bottles and syringes. Don't forget to use mouth protection, protective gloves and safety goggles when handeling nicotine.
WARNING:
This product contains nicotine. Nicotine is an addictive chemical.
NOT INTENDED TO BE USED AT THIS STRENGTH MIX WITH DILUTANTS TO MAKE REQUIRED STRENGTH.
Ingrediants: (All Pharma grade)
Glycerol, Propylene Glycol, Nicotine USP/EP. 90%, PG 10%, pure nicotine.
Shake well before use.
Store locked up and our of the reach of children and pets.