KamryTech K1000 Plus E-pipe
Product introduction
Kamry K1000 Plus is a classic ePipe kit with a maximum of 30W power output. It comes with a 1000mAh built-in battery and a 4ml sub ohm tank. You can easly check the power status with the LED fire button. The unique bottom design, long drip tip, energy saving mode and full protection system all contribute to a authentic e-pipe vaping experience.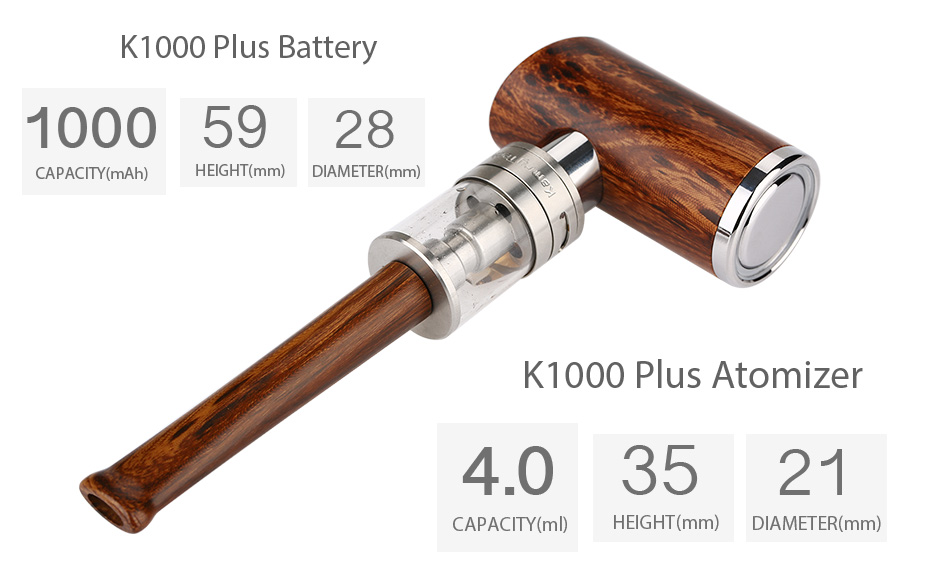 Kamry K1000 Plus Features
1. Appearance: Classical and Modern
K1000 Plus retained the classic K1000, adding more modern technology, combination of wooden body and stainless steel button.
2. Collocate sub ohm atomizer
Working with Kamry K1000Plus 0.5ohm atomizer, bigger cloud and better taste than K1000.
3. LED button
On the basis of K1000, we add a LED button, display the status of product more directly.
4. Long size plastic drip tip
Long size plastic drip tip cooling down cloud temperature more easily, and keep it below 15 degrees.
5. Unique bottom design
When not in use, it can stand, no need holder, don't worry about leaking.
6. Built-in battery
Soft package Lithium battery can better combine with the internal chip, the quality is more stable, replace the K1000 removable battery mode.
7. USB charge
Micro USB connector, more convenient to charge. No adapter, no charger, only need an USB cable.
8.Energy-saving mode
Energy-saving automatically shut down. System will be in sleep mode if it isnot be used or in other operation within 30s.
9.More protection system
Low voltage cutoff mode, Short circult protection, Over heat protection, Over time vaping protection, all designed in the chips.
KamryTech K1000 Plus E-pipe Kit includes
1  x  Kamry K1000 plus
1  x  Atomizer (Please click here to buy additional Kamry K1000 Plus Epipe Atomizer)
2  x  Replacement coils (Please click here to buy additional Kamry K1000 Plus Epipe Coil Head)
1  x  USB Cable
1  x  User manual
1  x  Warranty card
1  x  Gift box
This product is TPD approved for sale in Sweden