Joyetech eGo AIO Starter Kit
The Joyetech eGo AIO kit comes in a slick cardboard box with a short description of the AIO and a list of items on the back side.
Available colours: Black, Black/Grey, Black/White, Red/White, Silver.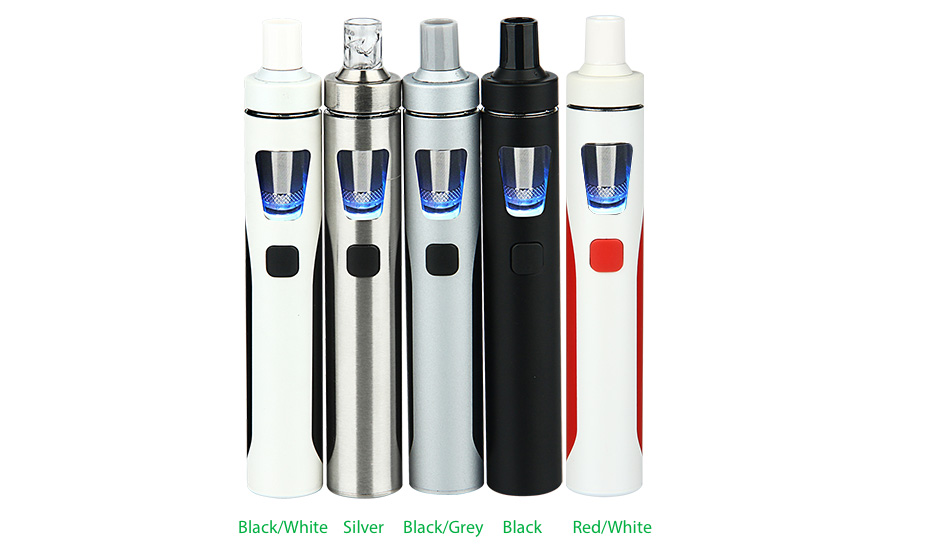 Joyetech eGo AIO — Design and comfort
What we like best about the AIO are the design and it's small size. It is extremely light-weight. It steps 118.5 mm in length and 19 millimeters in diameter, so it's somewhat bulkier than the typical eGo pens we all used in the start.
It's slimmer and lighter than eGo One if you're looking for a tiny and discreet e-cig then the AIO will be your favourite. We find the eGo AIO pen to be very easy and comfortable to use.
Due to the simplistic appearance and no wattage manner the AIO is likely best suited to anyone wanting a very simple device — but there is more to it than meets the eye. The AIO utilizes coils for the best flavour that is possible, and also the tank section has a fantastic cup design, making it very easy to fill from the very best. You do not need to hold it just like most starter kits and trickle your down the side at an angle. The tank holds two ml of e-liquid.
If you have experienced that e-cigarettes sometimes "spit" e-liquid on your mouth, the anti-spit drip tip will impress you. It keeps e-liquid from draining and some other spit back from the e-cigarette. The tank segment has a cover that doubles as an controller. Should you align the 2 dots on the ring and drip tip the airflow will be opened by you. By rotating the ring so that the arrows form a 90-degree angle, the airflow will be closed.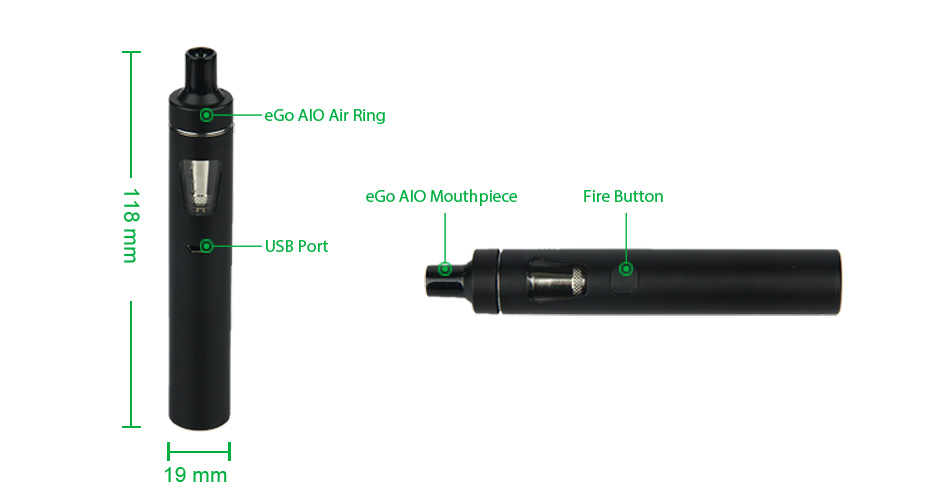 Joyetech eGo AIO: Parameters
Lighting LED with 7 Colours that are changeable
2ml capacity and battery capacity that is 1500mAh
Innovative leakage proof technologies
First childproof tank lock program
All-In-One e-cigarette
Passthrough, allowing you to charge while you to vape it.
Childproof lock
Spit-back protection
Meets the EU needs as of May 2016
Joyetech eGo AIO comes with
1 x Joyetech eGo AIO Body
2 x BF SS316-0.6ohm head
1 x Plastic spiral mouthpiece
1 x Clear Mouthpiece
1 x USB cable
1 x Quick Start Manual
1 x Warning Card
It adds to the visual appeal of the unit, although as a final note on the layout we want to mention one feature that does not affect how the AIO works — LED lighting at the tank. The devices had a LED button, along with this is taken by the AIO to a new level with a coloured light inside the tank. You can even select the color you want by holding in the button when the unit is powered off, and then browse through the cycle of six different colors (yellow, green, white, indigo, white, red or purple).
Joyetech eGo AIO: Battery Capacity
The battery ability might not seem like much that is not the point here, although if you compare it to a device with an integrated 5000mAh battery. Temperature controller and wattage tend to be used at much greater. The electricity output on the AIO is not adjustable, and it will fire between 4.2V and 3.7V, based on just how charged the battery is. When combined with the 0.6Ω coils comprised, you reach a wattage of 15W — 28W — that is more than sufficient to meet anyone who wants to quit smoking.
Joyetech eGo AIO: performance and Vapour Creation
How is the vapour production on this thing? After all the e-cigarette's performance has become the most significant part for most people. The AIO is a device that is sub-ohm, and because of this it has never been more easy to begin using vaping. Will be amazed. Because you need to go sub-ohm for the very best vape, that is a big deal, and with the AIO it's become a lot more affordable to begin. However, the air adjustment possibilites makes it just as easy to use the AIO for mouth-to-lung vaping.
All products sold by iSmokeKing.se is authentic with scratch/verify serial numbers.
This product is TPD approved for sale in Sweden
ECID:
00219-16-04333
00746-16-14420
00746-18-50141
01227-16-00014