Nasty Shisha Salts – ASAP Grape
ASAP Grape salt nic e-iquid by Nasty Juice is a fruity blue grape flavor with mint and cooling.
Nasty Juice e-juice comes in a 10ml bottle with nicotine salt containing 10/20mg of nicotine. Salt nic e-liquids are smoother and feature a lighter throat hit compared to standard e-liquids, without losing any of the nicotine strength.
Flavour profile: Grape, Mint, Cooling.
Nicotine: 10/20mg
Type: Salt Nicotine Blends
Content: 10ml
Mix: 50/50 VG/PG
Nasty Juice Specifications
10/20mg Nicotine Strength
Designed for Starter Kits and Pod Devices
TPD Compliant
Made in the UK
Childproof Cap
Tamper Evident Seal
Recyclable Bottle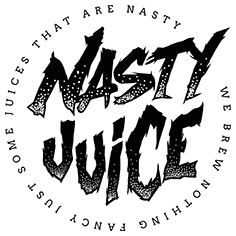 Nasty Juice are manufactured in the UK and has reached worldwide fame with their range of exotic and fruity juice flavoured e-liquids.